The 11 Best Vintage Fountain Pens (According to Owners)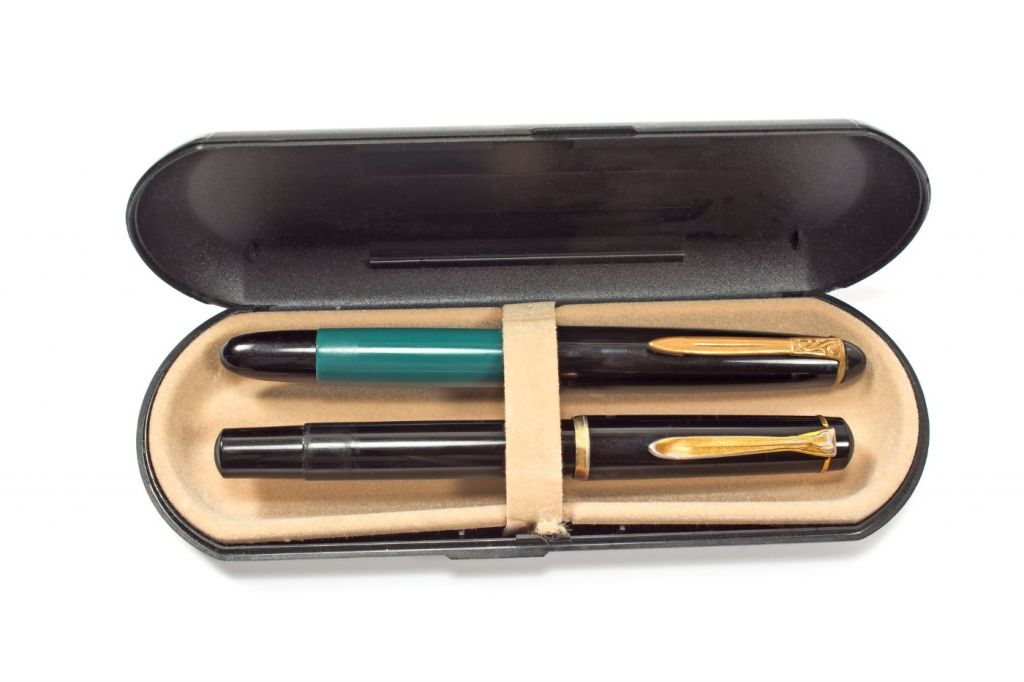 When I first started getting into vintage fountain pens, I had no idea where to start looking. There's so much that still writes today. So let's make it easy and go over the most popular vintage pens together.
Here's my list of the best vintage fountain pens:
This is by no means a comprehensive list, but it does contain some of the most iconic and well-respected vintage pens out there. Most of these pens are great starting pens if you're getting into vintage pens yourself.
I'll also explain what makes these pens so popular. After reading this article, you'll be able to point out the most iconic vintage pens, and immediately tell why it's iconic. So let's dive into the first one.
Parker Duofold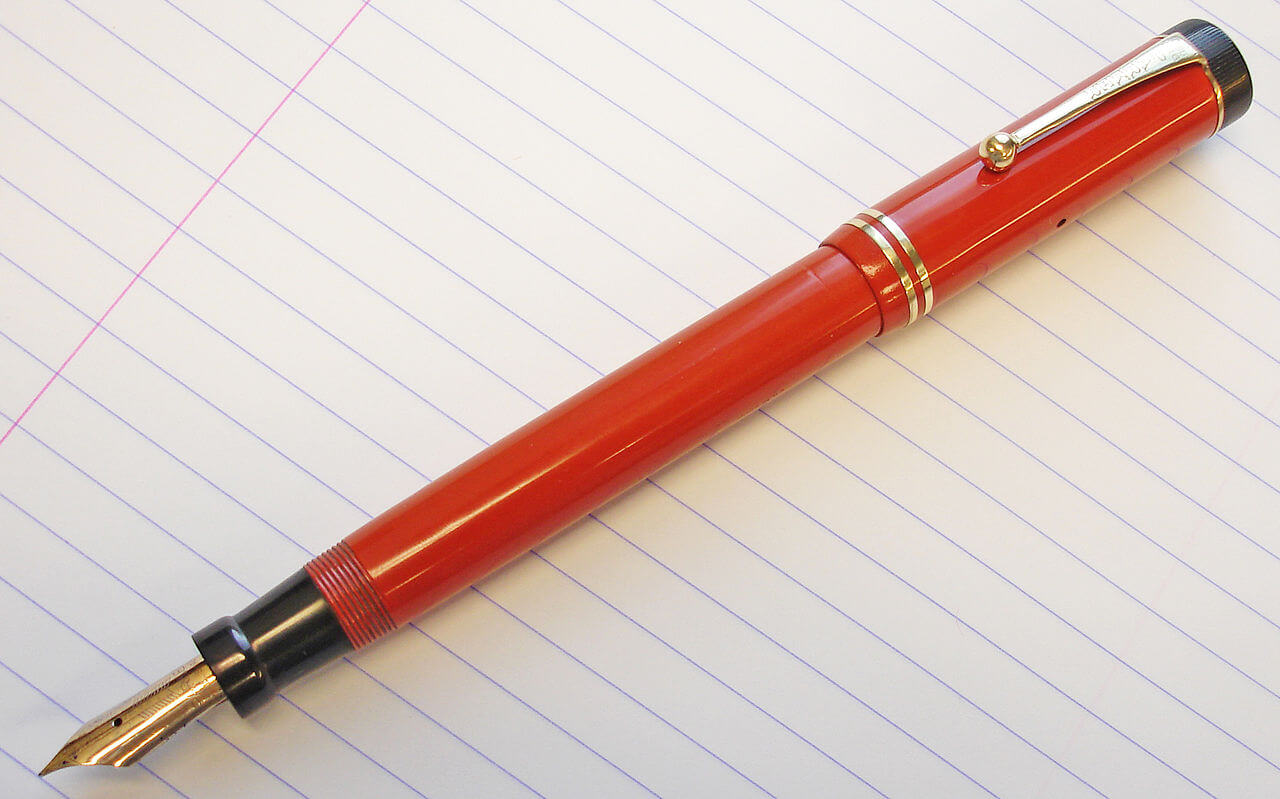 Price: around $50-300
Produced: 1921-present
The Parker Duofold seems to be on every vintage pen collector's list, and it's on mine now too. They have been made since 1921 and put Parker on the map, making them one of the most popular pen companies of their time. The original model was in a striking red, which helped with the marketing of the pen.
They are still made today, and whether you get a vintage or a contemporary one, most fountain pen users agree that it is one of the best fountain pens ever made.
The nib is duo-fold, fold twice, hence the name. The rigid nib allows it to be used on carbon paper as well.
Here is the best resource I've found on the Parker Duofold on the internet: go to ParkerPens.net
Parker Duofold Senior Big Red
The Parker Duofold Senior Big Red is a larger version of the regular Duofold. This is the flagship model of the Parker lineup. It's an iconic design, and most fountain pen enthusiasts will recognize it out of a lineup instantly.
Waterman 52

Price: around $250
Produced: 1915-1930s
The Waterman 52 is another really well-known and well-respected vintage pen. It is a very light pen and has a slimmer design than, for example, the Duofold. It was made from 1915 - 1930s. There are a lot of finishes available, as it was already a popular pen at the time. If you prefer thicker pens, this might not be the one for you. However, if you like light pens to write long sessions, the Waterman 52 might be perfect.
The name 52 is Waterman's coding for the filling system (lever: #5) and the nib size (#2). The nib on most models is quite flexible, so the 52 has become an iconic pen, and one of the favorite writers, of many flex-nib-lovers.
Here's a good discussion on the 52: read at The Fountain Pen Network.
They used to be very cheap pens; nowadays, however, they are sought-after, since a lot of vintage pen lovers recommended them—because they are so cheap. Bummer.
Parker 51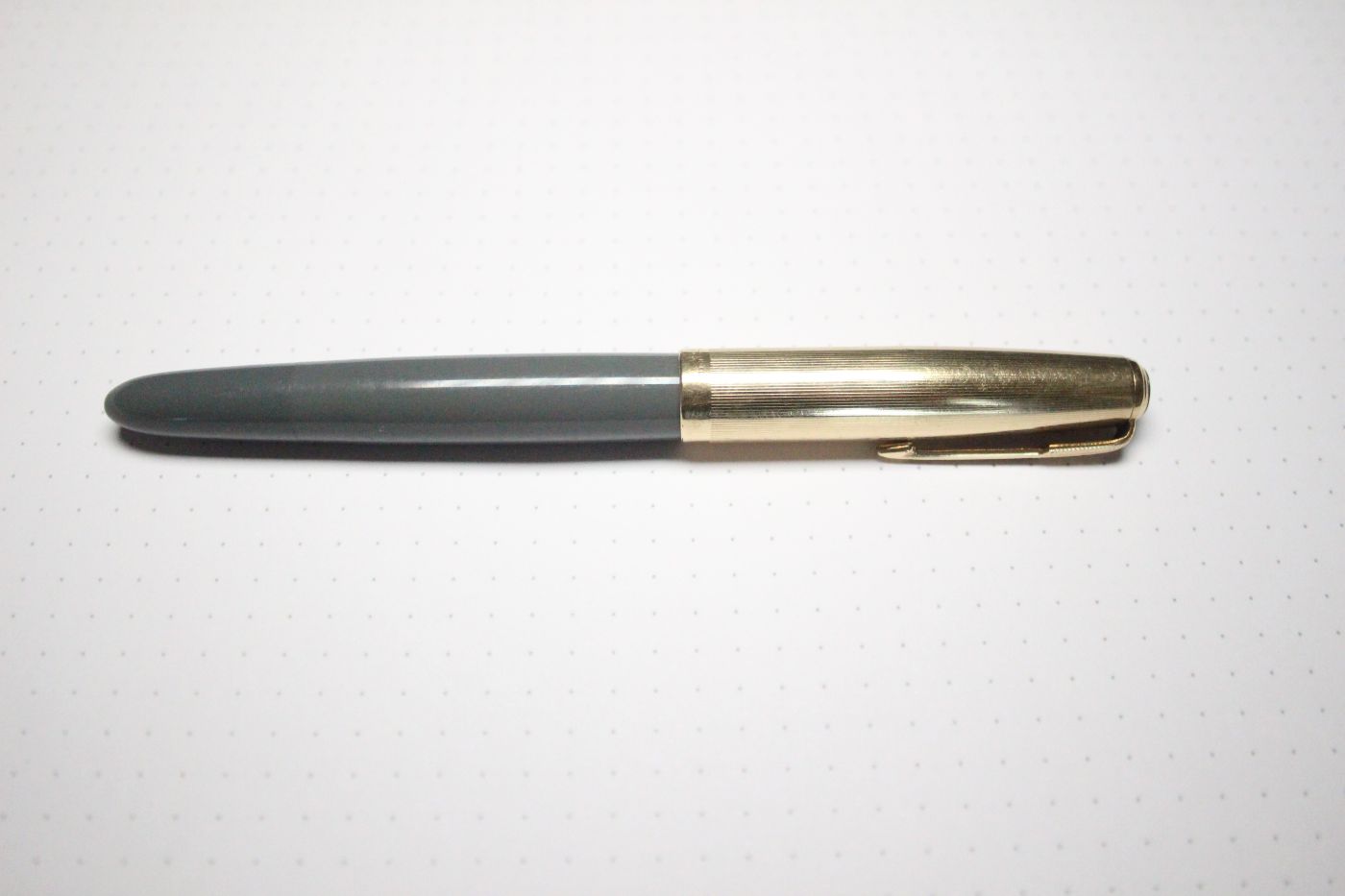 Price: $50 - $80
Produced: 1941-1970s
The Parker 51 is the world's most sold fountain pen of all time. It's one of the most iconic designs in fountain pen history, and it is a great writer.
I have bought one recently from 1947, completely original, and I'm amazed at how well it writes out of the box. It's a pleasant writer, and I find I use it almost daily. It also looks gorgeous.
They come with an Aeromatic or Vacumatic filling system. Since they are widely available, they are not super expensive, and they are very good everyday writers. Thanks to its hooded nib, it stays wet for a very long time uncapped (minutes), making it a wonderful note-taking pen.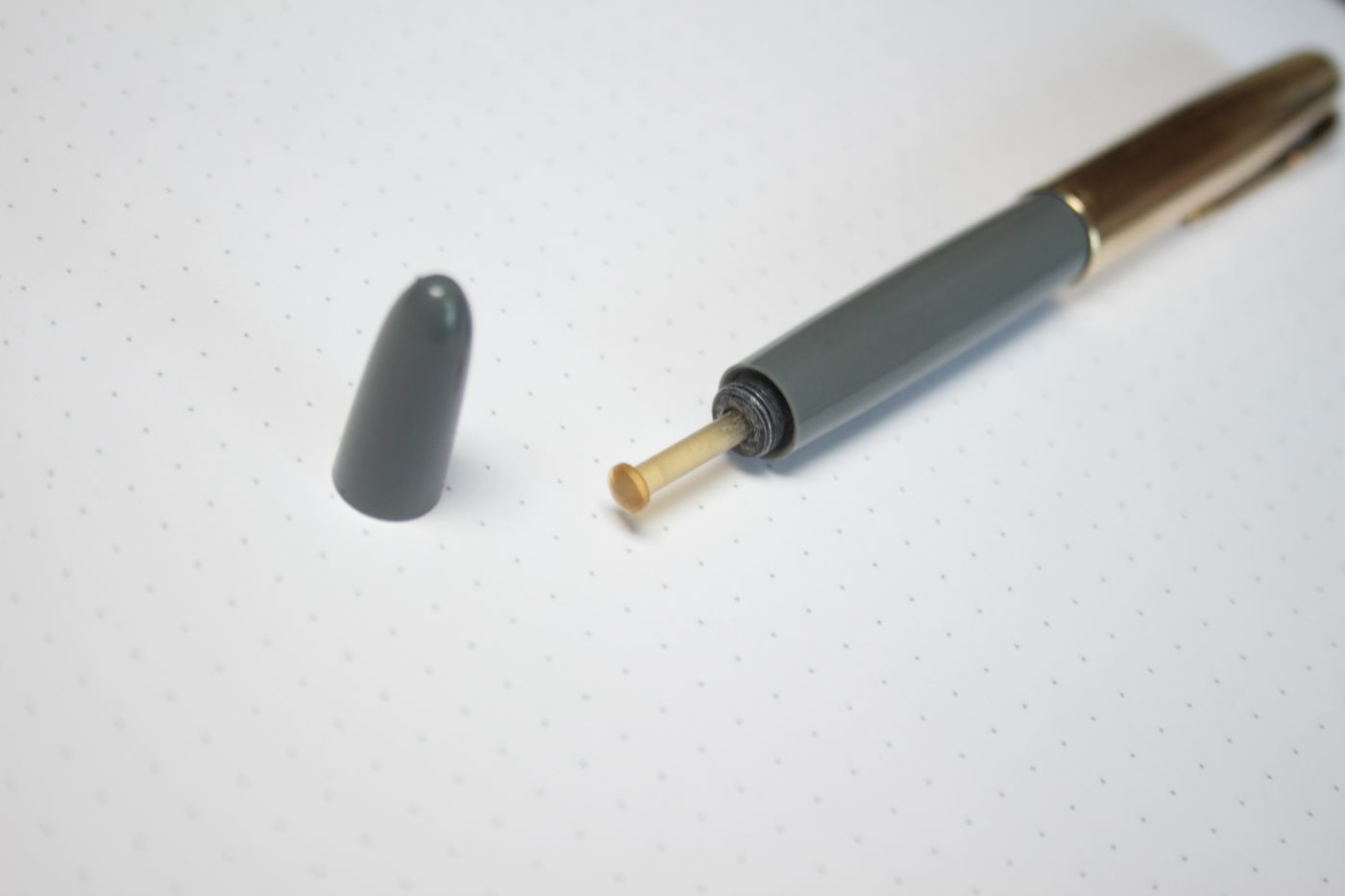 Its largest disadvantage is cleaning it. Vacumatic filling systems are very hard to disassemble, so be sure to use easy-to-clean inks, like Diamine's standard line.
There are a lot of Parker 51 inspired remakes that are cheap and also pretty good. If you're interested in getting one of those for under $10, I recommend reading my article on cheap hooded-nib pens I've actually used.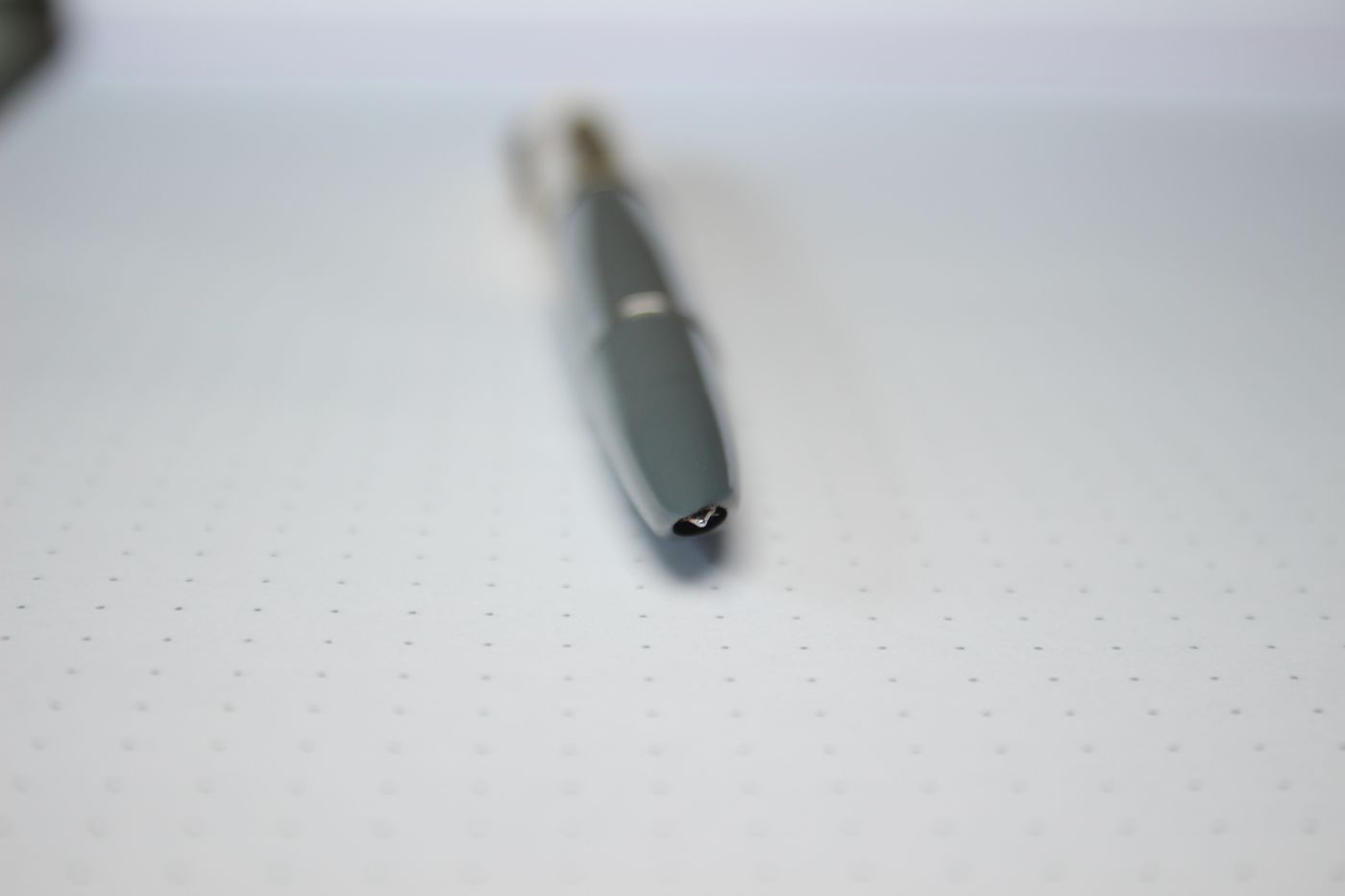 Parker revolutionized fountain pen functionality and design with this model, and while it is now a very familiar look, it was the first in its class. The older models all come with 14K gold nibs. They are very reliable writers, lightweight, and still a good everyday pen to use. If you're looking for an iconic design that you can use daily, without worrying about scratching or using the pen, get yourself a 51.
Here's a good resource on the Parker 51 if you want to read on at ParkerPens.net.
Parker Vacumatic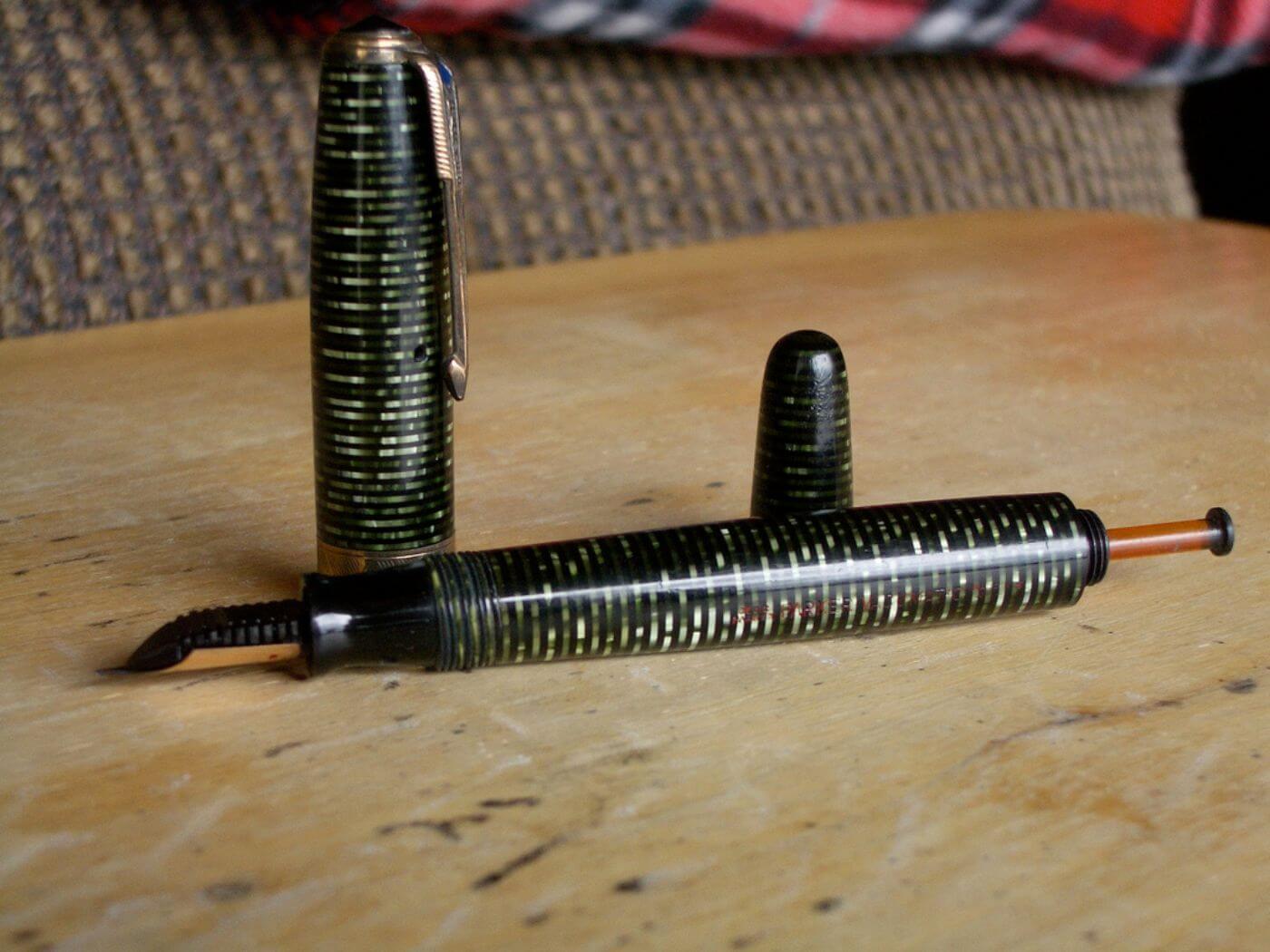 Price: $100-150
Produced: 1932-1948
This is another pen that makes it into nearly all vintage pen lovers' list. The Parker Vacumatic is known for its large ink capacity (it uses the entire barrel as a reservoir), and its unique, semi-transparent design. Until now, fountain pens didn't show ink levels. Parker circumvented the problem by designing a barrel made of alternating transparent and solid bands. This design feature became iconic and is still recognized and admired today.
Its largest disadvantage, like the Parker 51, is cleaning it.
They all come with a 14K nib, and Parker's gold nibs were outstanding at the time. So apart from being a looker, this pen also writes very well. They are available with semi-flex nibs and in all (nib) sizes.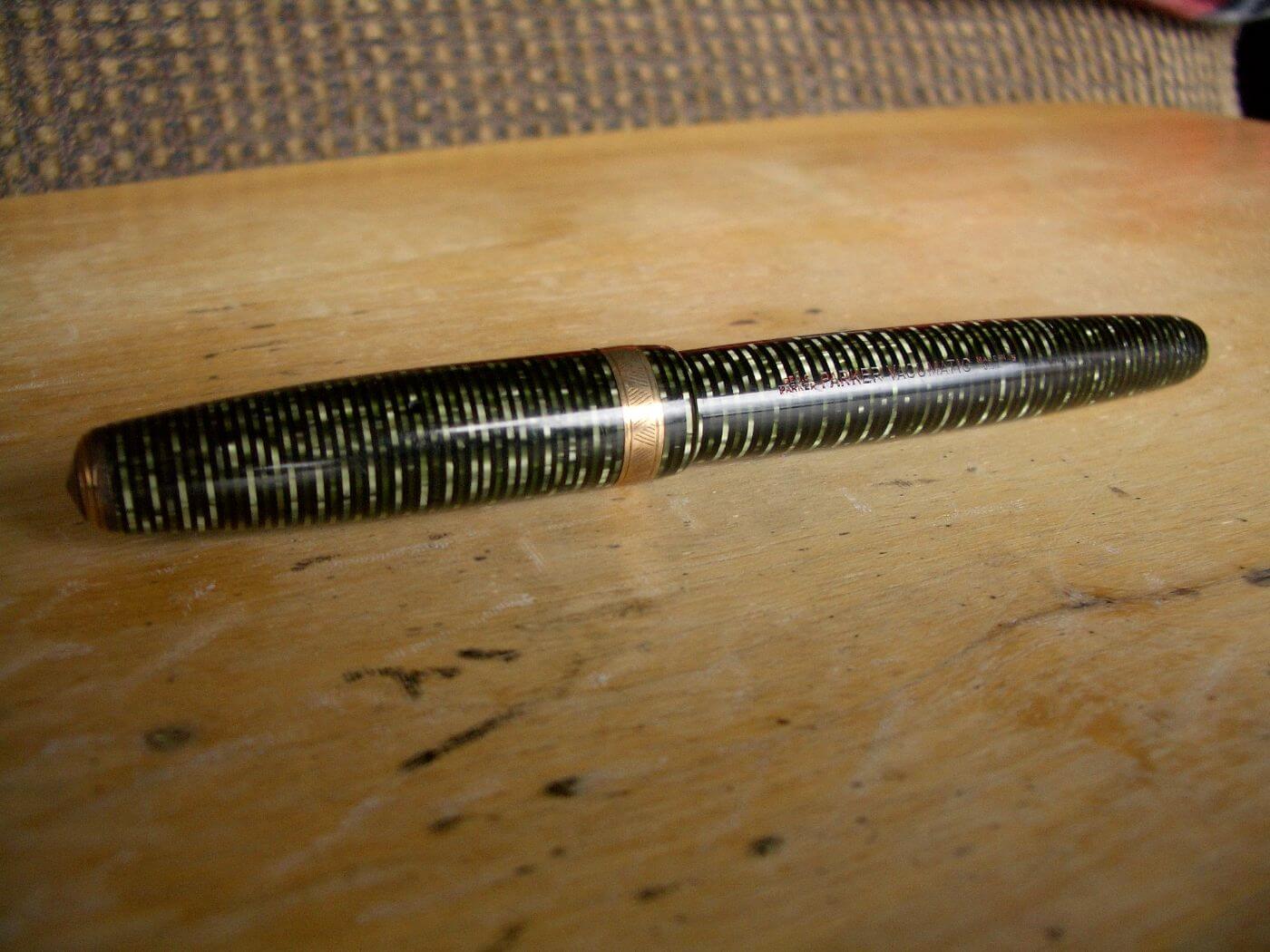 They are still worth the money, even when compared to brand new pens if you can find one that works properly and has a decent nib.
Here's a good resource on the Parker Vacumatic if you want to read on at ParkerPens.net.
Pelikan 140, 400 & 600

Price: $100-150
Produced: 1932-1948
This is another of my personal favorites. Pelikan nibs from the 40s and 50s are adored by many fountain pen lovers. The Pelikan 140 was a simple production pen, made for the masses. It was quite affordable, and there are a lot available, making them still pretty affordable.
Some people find the 140 too small, which I can understand, but when I post it, I have no problems. It's a great everyday pen for long writing sessions. It stays wet for a very long time, and it has a very well-designed piston filler mechanism.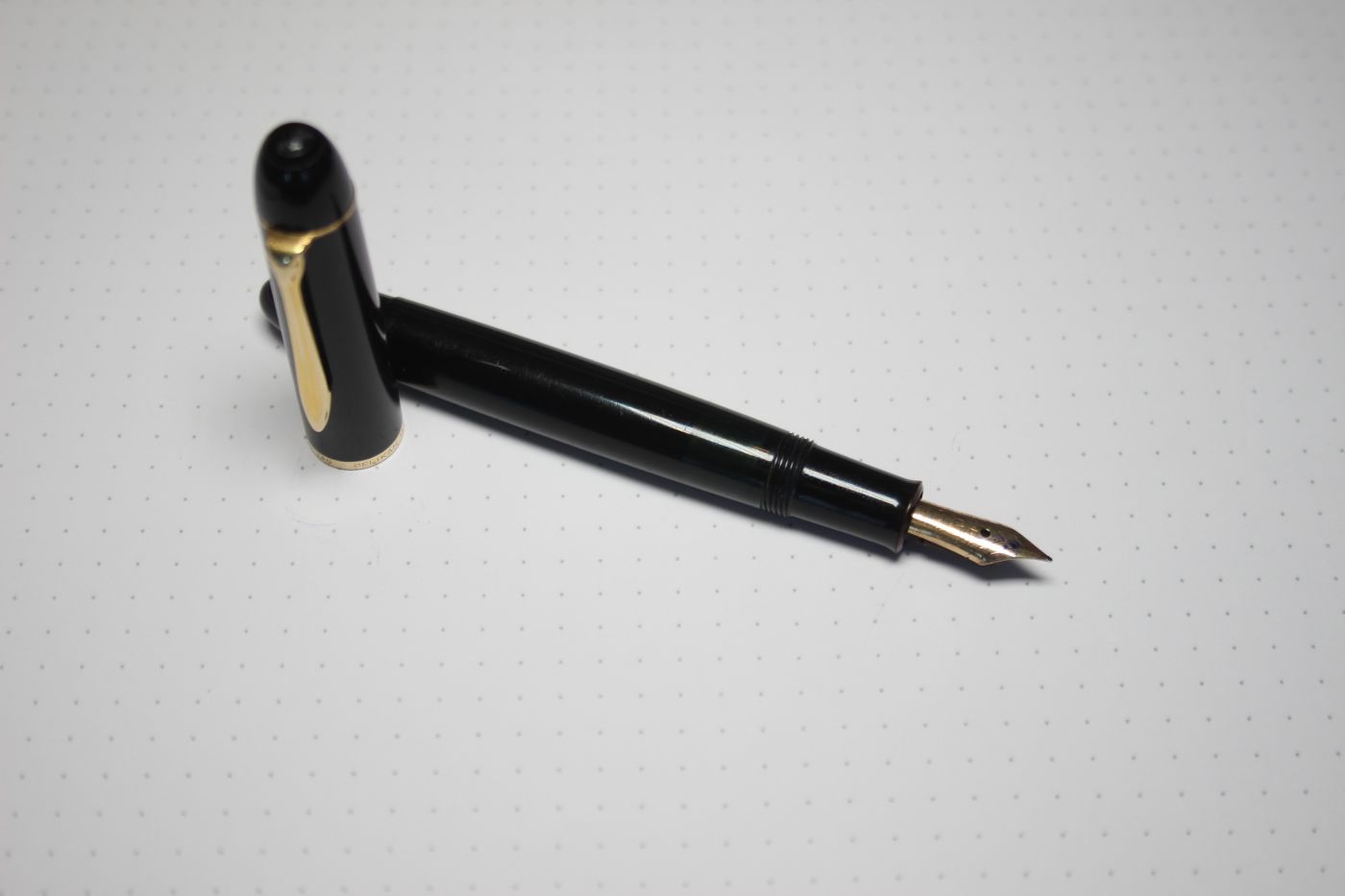 Mine is from 1954, I believe, and I just had to flush it out. The piston never leaks, it takes up ink like a mad man, and the pen writes like a dream.
I have the black version, but the more iconic design is the green-black striped, which is still made today. They should be available plentiful, since they were very popular at the time, and a lot have been sold.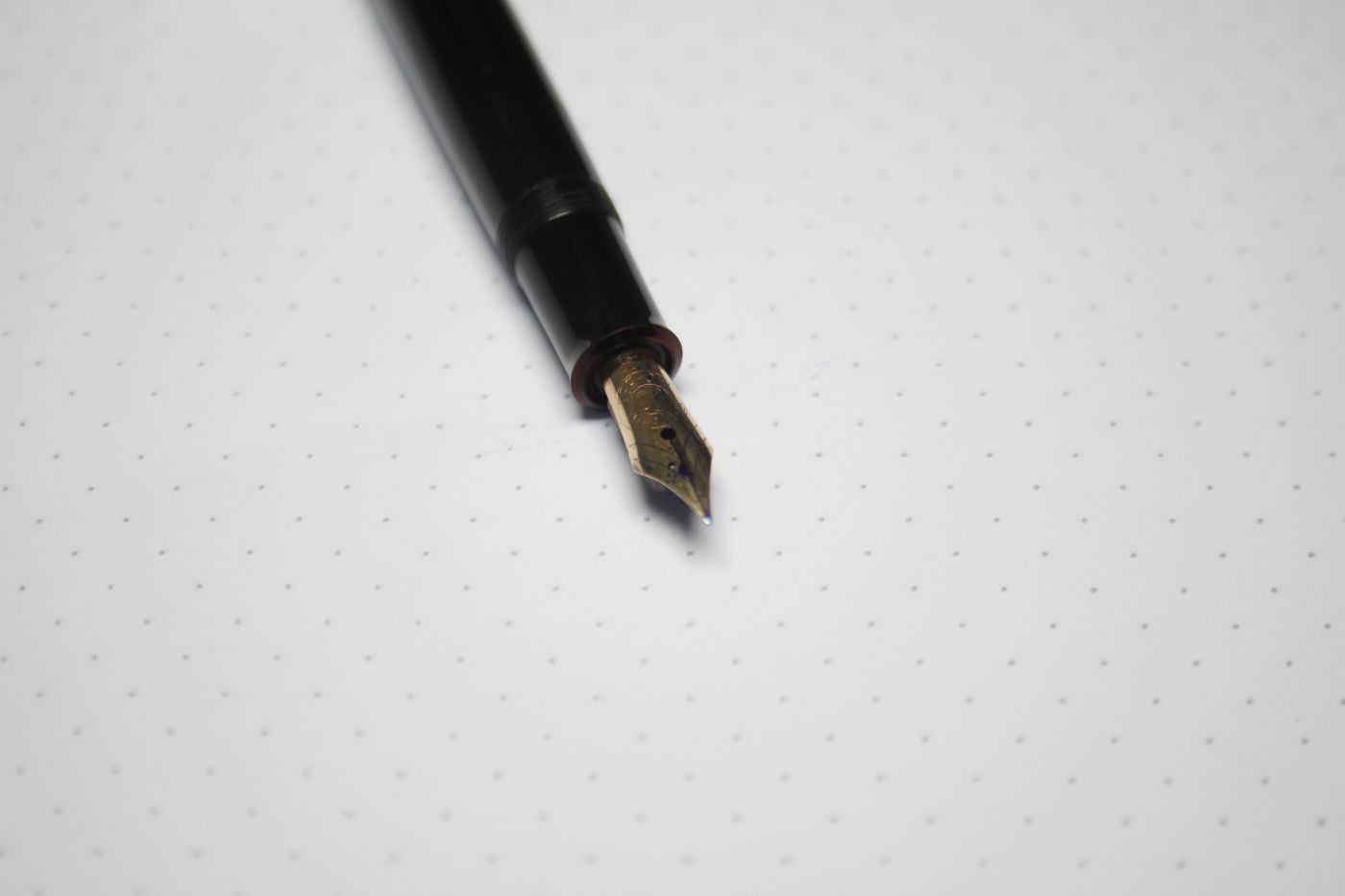 You can also get a 400 or 600 if you like, which will be bigger in size and have a bit more heft to them. They use similar 14K gold nibs and ebonite feeds as the 140. My specific nib is very smooth, springy, and very wet. They use a somewhat larger design — longer and with narrower shoulders — and I think that is what makes this nib feel so different from other gold nibs.
To get more information on this pen, here is an excellent article on The Venerable Pelikan.com.
Pelikan still makes excellent pens today, but their post-war nibs are legendary. They still make their gold nibs by hand. Here's a well-done tour of the Pelikan factory by Appelboom pennen:
Conklin Endura
Price: $100-150
Produced: 1920s-1930s
Conklin Endura has made very well-built pens in the 1930s, with flexible to stiff nibs. Their 30s pens are made from celluloid, which is a very durable material; hence the pens from these years don't have a lot of problems. Pens from the 1920s are made from a softer material and can develop micro-cracks around the lever.
The Endura comes with solid 14K nibs and a lever filler. The nibs are smooth, but generally a bit stiffer and dryer. The pen is large, with an above-average grip section, which is great if you like pens with a bit more heft to it.
Sheaffer Imperial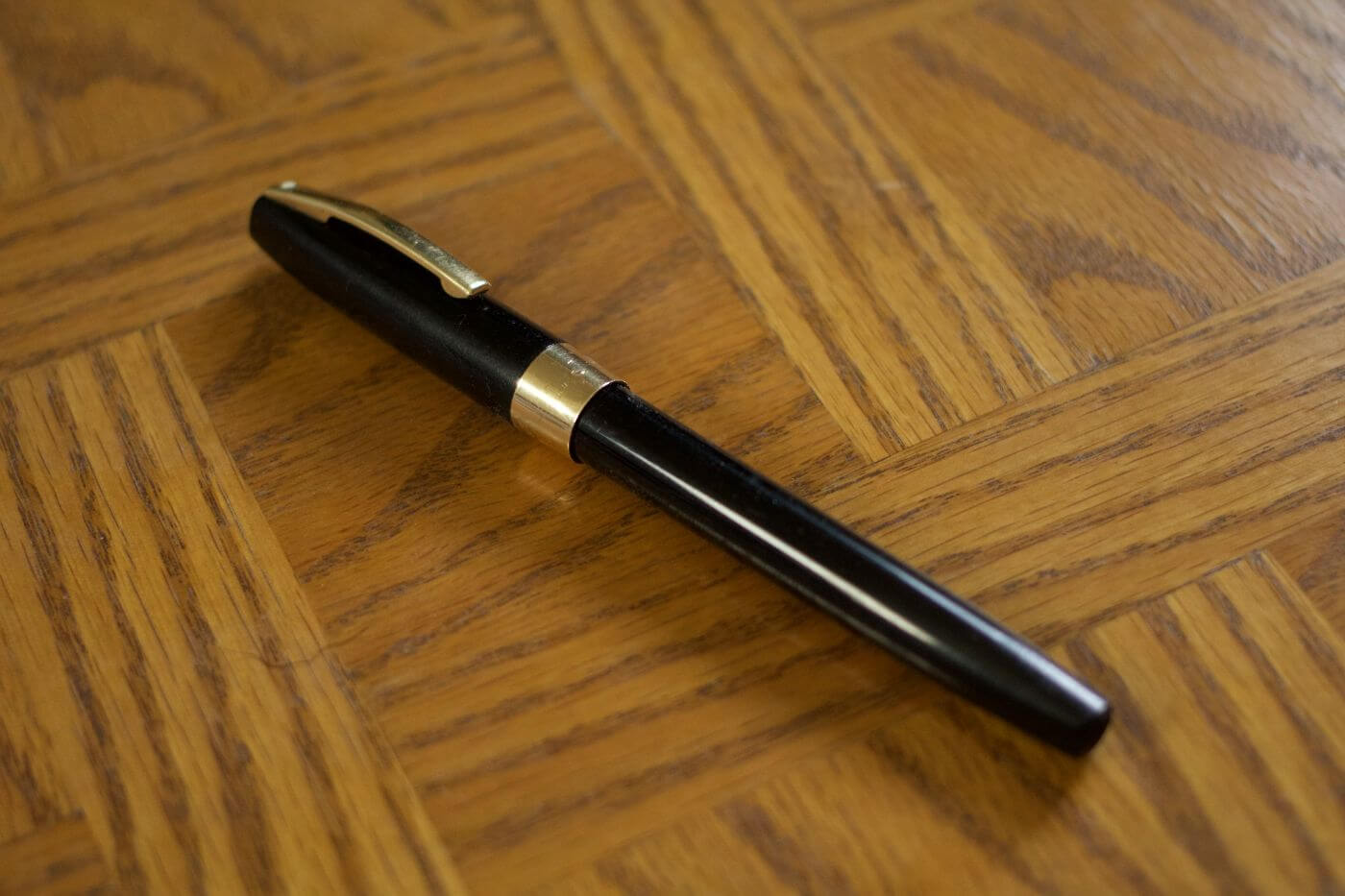 Price: $75-150
Produced: 1960s - 1970s
Right among the top vintage pens, belongs a Sheaffer Imperial. These superb writers have a very recognizable, inlaid nib, unlike anything you've seen before. I own a Sheaffer Targa, which uses the same nib design, and I think it's one of the most beautiful nib designs I've ever seen.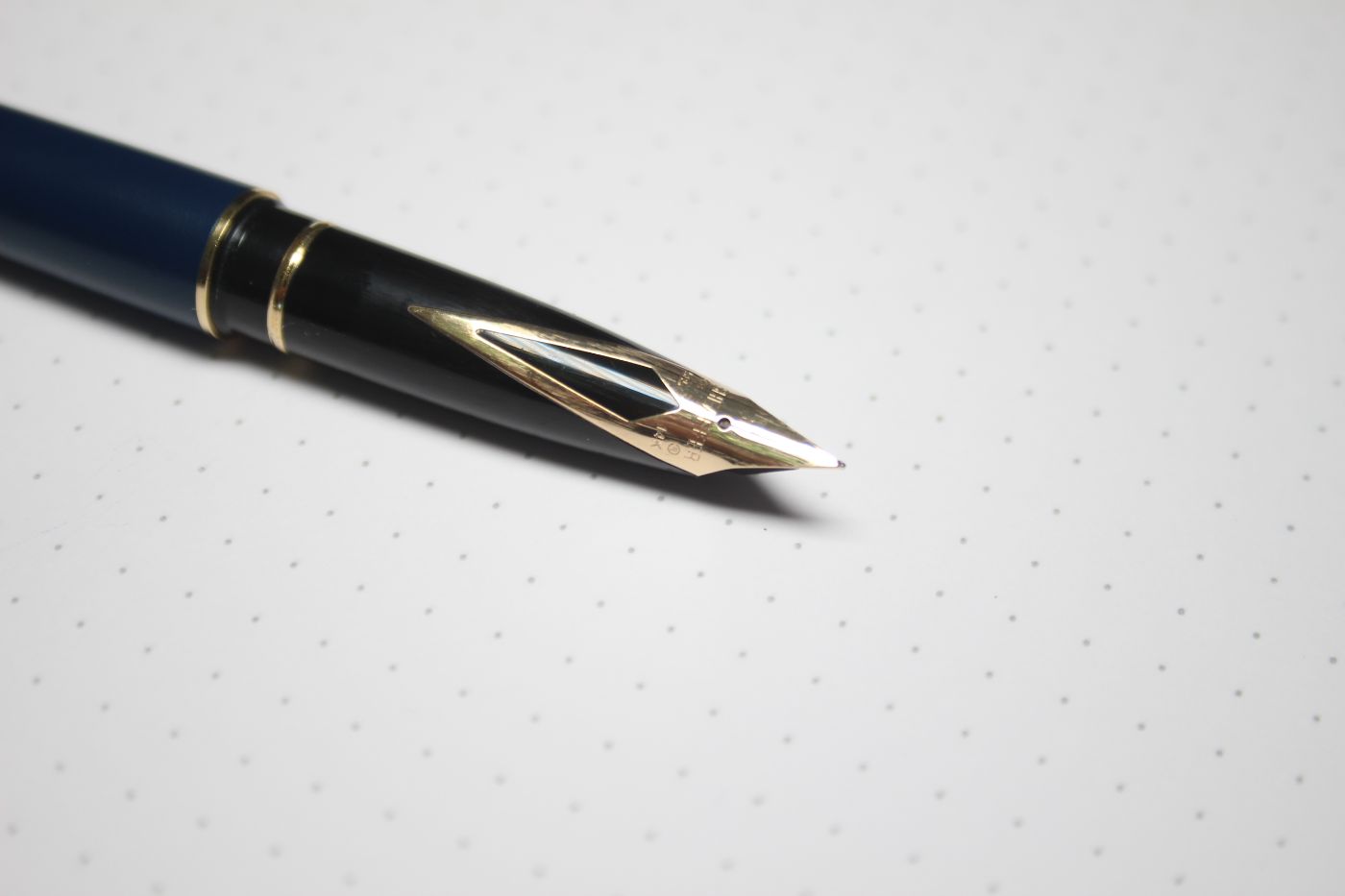 It uses the same nib as the PMF (Pen For Men), which is a 14K gold nib. They generally have a bit of spring to them. The Imperial uses an Aeormatic squeeze converter and has a spring clip, which is another great design feature.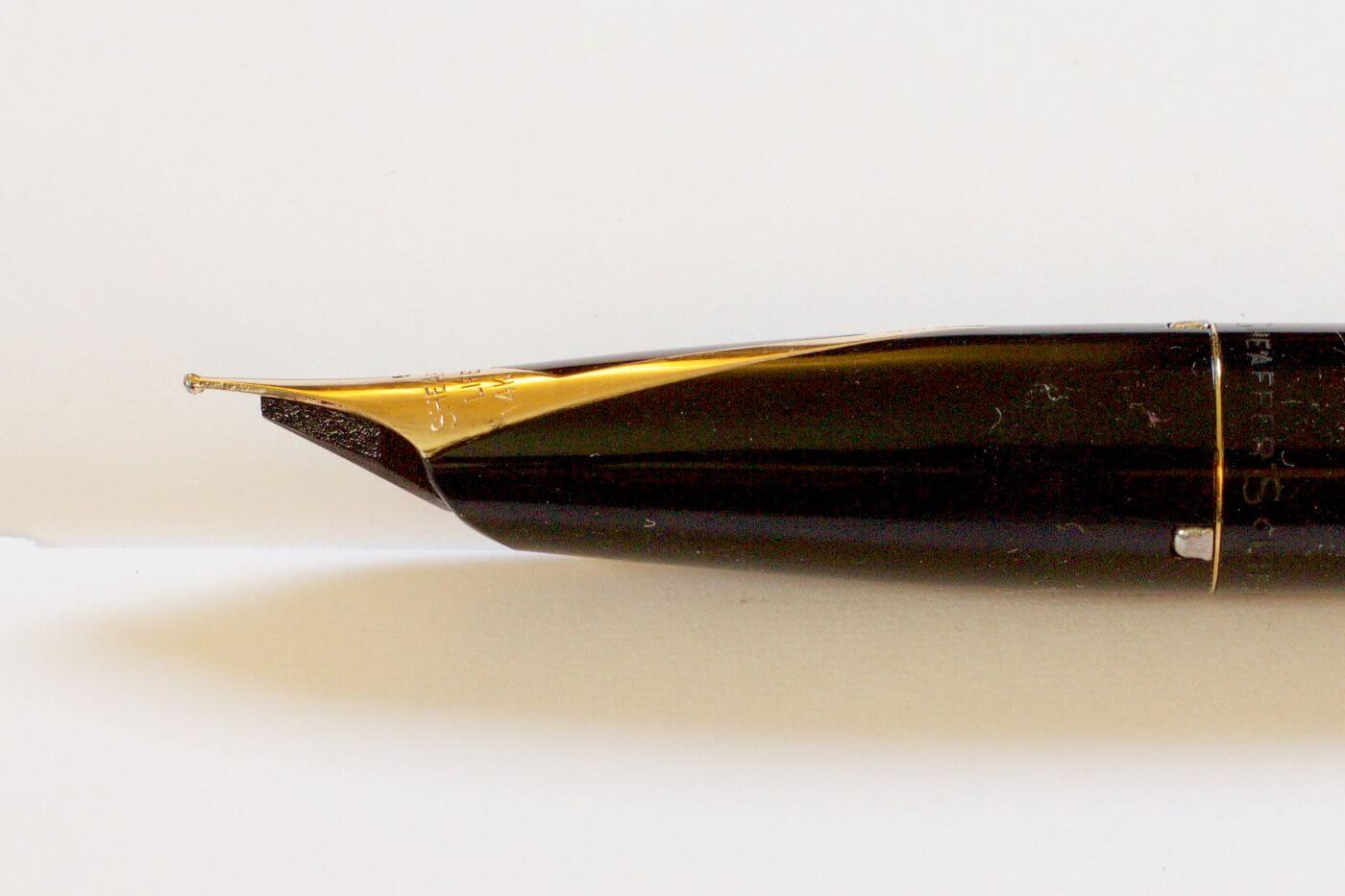 The Imperial is a somewhat thicker pen, with a seamless transition between the barrel and section. It has a minimalistic cap & clip design, that feels a bit Bauhaus.
Very beautiful pens that have very good nibs and provide an outstanding writing experience.
Sheaffer Targa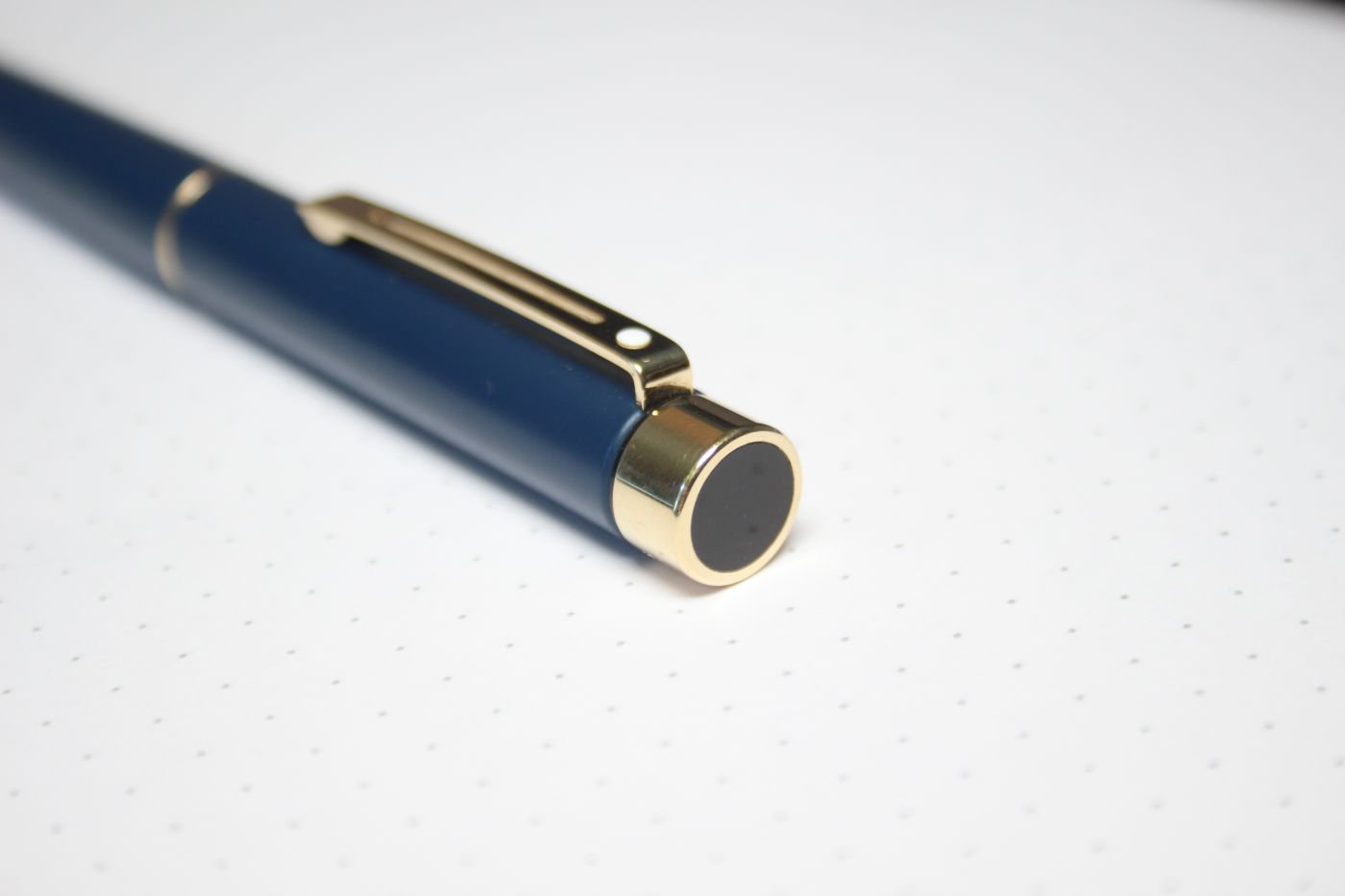 Price: $30-50
Produced: 1976-1999
If you enjoy slimmer pens, and like the nib design of the Imperial, you could try the Sheaffer Targa. Admittedly, this is not a real vintage, but who cares; it's an arbitrary number anyway. It's a good old pen, so it's on the list.
My Targa writes like a charm, but I'm not that fond of the slim design, so I'll have to try an Imperial I'm afraid (what a pain!).
Read more on the Targa here (new tab).
Wahl Eversharp Skyline
Price: $50-120
Produced: 1941-1949
The Skyline has a very distinctive cap design that also comes in ribbed gold-filled, which means it has a 14K gold outer layer (a lot thicker than gold-plated and a lot more durable). The clip ends on top of the cap, allowing you to clip it very deep into your pocket. It has very strong taper towards the end. It is a lever filler, which means there is a rubber sac inside you fill up by
The barrel has an elegant line to it, making it a comfortable pen to hold. The nib is very smooth and very flexible and provides a great writing experience. The Endura uses a one-of-a-kind feed design.
Read more at PenHero.com.
Esterbrook J

Price: $30-50
Produced: 1941-1950
Esterbrook is an American brand with an English founder that has made some very good pens in the post-war period. Manufactured in Camden, New Jersey U.S.A., the Esterbrook J might be one of the best starter vintage pens for everyday use. They are inexpensive, well made, and they come in some beautiful finishes.
The J is made of resin with very high chatoyancy (depth). There are plenty of colors available. Like the Endura, it is a lever filler, which was very popular in the 1940s and 50s. They are very well made, not very expensive, and they write very well. Average-sized, they are comfortable to use, although the grip section might be a bit small for some people.
Recently, Esterbrook has been purchased by Kenro, the U.S. distributor of Montegrappa and Aurora; they now manufacture their pens in Taiwan.
Correction 18 February 2022: I've previously stated that Esterbrook is an English brand. This was a mistake. Thanks Charlie and Robert for pointing out this error in the comments.
The biggest disadvantage might be that it doesn't come with a gold nib; however, their steel nibs are superb and might be the better choice for new fountain pen writers.
Maybe this is one of the best everyday vintage pens out there: not too expensive, a durable steel nib, gorgeous materials, and a reliable writer.
Read more at Esterbrook.net.
Conway Stewart 388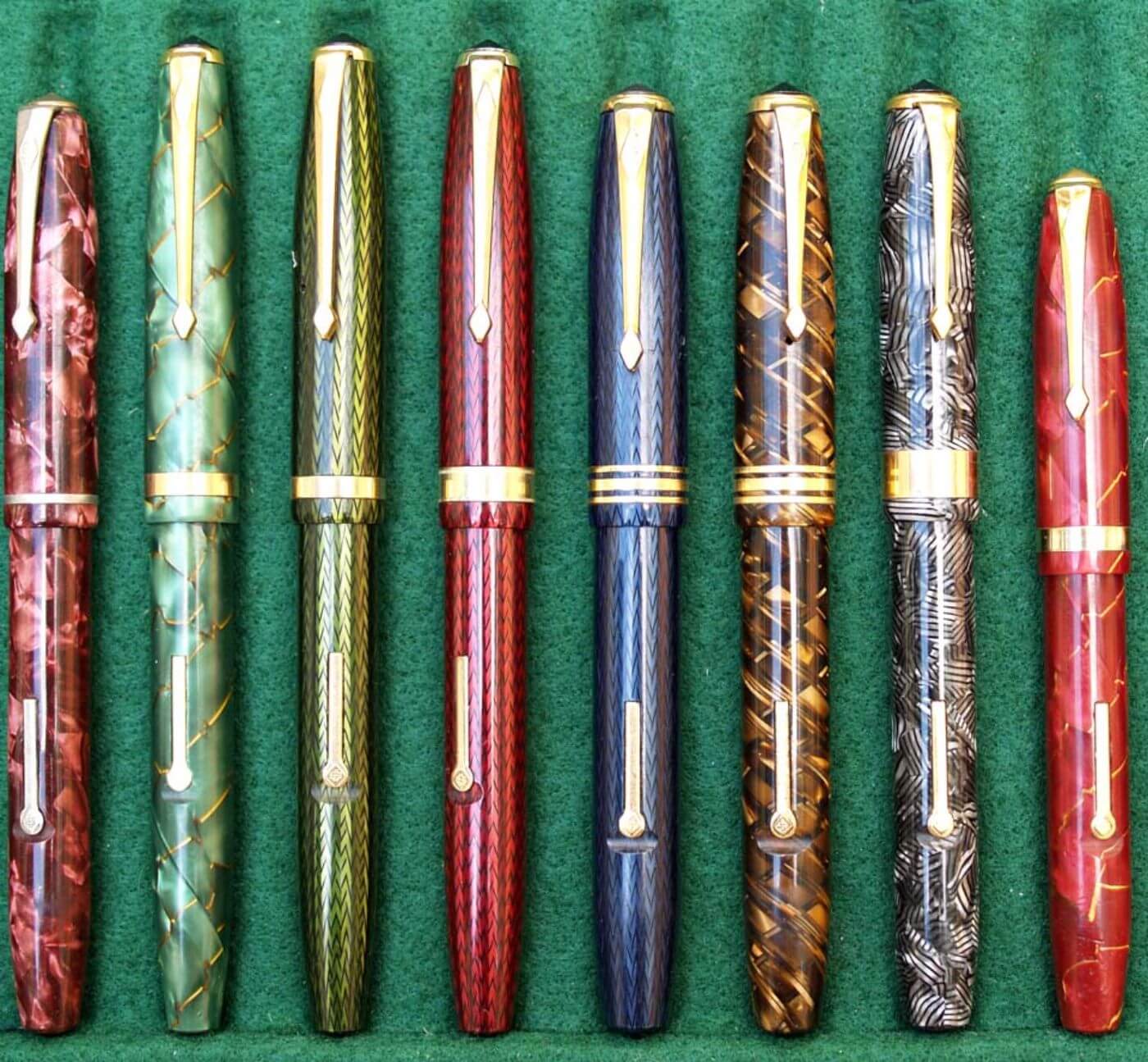 Price: $50-150
Produced: 1940s-1950s
We end the list with a great-looking 50s fountain pen. The Conway Stewart 388 is another affordable beginner vintage fountain pen from the UK. It comes in beautiful celluloid, marble finishes, with gold-filled trim (which has a higher gold content than gold-plated trim). It uses a lever filling system. It's a bit slimmer but pretty long. They come with 14K gold nibs that write very smooth and consistent.
They are, like the other pens that have made this list, very reliable writers, comfortable to use, making a great everyday vintage fountain pen.
Honorable Mentions
Below you'll find a dozen honorable mentions I am not yet familiar with but have made the list of many pen enthusiasts top vintage pen lists.
Aurora 88
Parker 21
Waterman 12 PSF
Sheaffer Snorkel
Sheaffer Lifetime
Sheaffer Balance
Sheaffer Flat Top Lifetime
Did you find the answer to your specific question?
👍

36
👎

14