Cheap Hooded Nib Fountain Pens I've Actually Used (Top 3)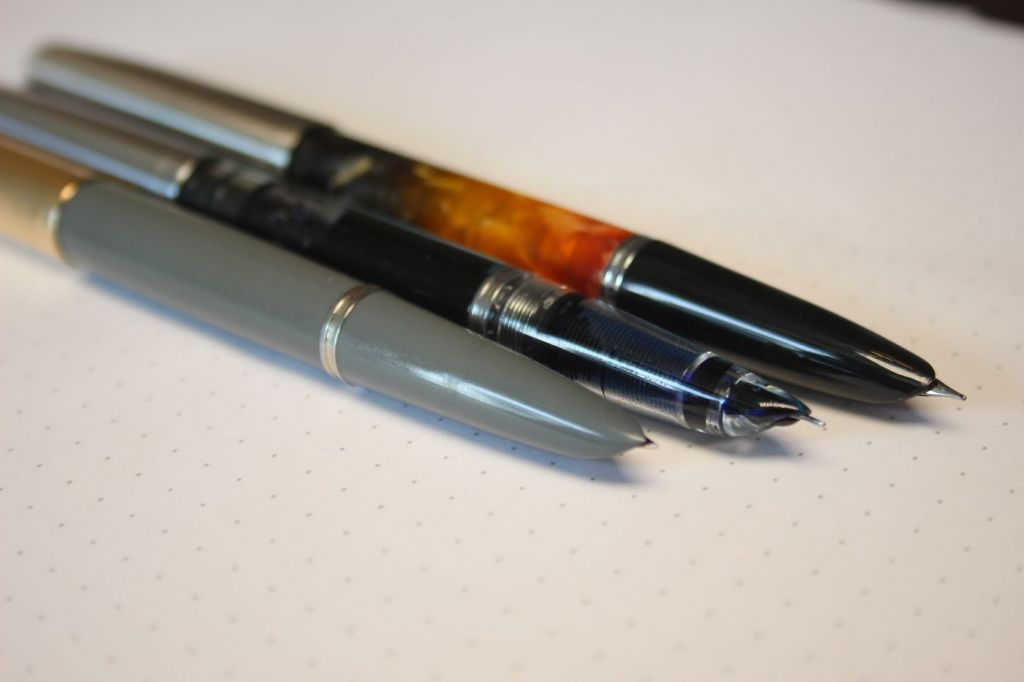 If you're looking for your first hooded nib, you don't want to spend a fortune. Here are some of the best value hooded nib fountain pens, most of which I've actually tried myself.
What are the best, cheap hooded-nib fountain pens?
Wing Sung 601
Jinhao 51A
KACO Retro Fountain Pen
Hero 616
Parker 51
However, if you are really into hooded nibs, you can get the very best one for a couple of tenners. Read on to learn how.
The Best-Value Hooded Nib Fountain Pens
Best Buy: Wing Sung 601
Budget: Jinhao 51A
Best hooded fountain pen: Parker 51 with 14K nib
I must admit, the top two are both Parker 51 clones, and not just because Parker 51 is the king of the hooded nib, and they used it is as inspiration. There are a lot of details that are entirely copied from the classic design. But the thing with both of them is, they're both excellent pens in and of themselves. And at very reasonable prices.
Anyone starting out in fountain pens that likes hooded nibs, or want to try out hooded nibs without too much downside, should definitely try out both of these pens. For about fifteen bucks (together!) you can get both of them delivered to your doorsteps in 3-4 weeks. It's a great way to find out whether hooded is for you.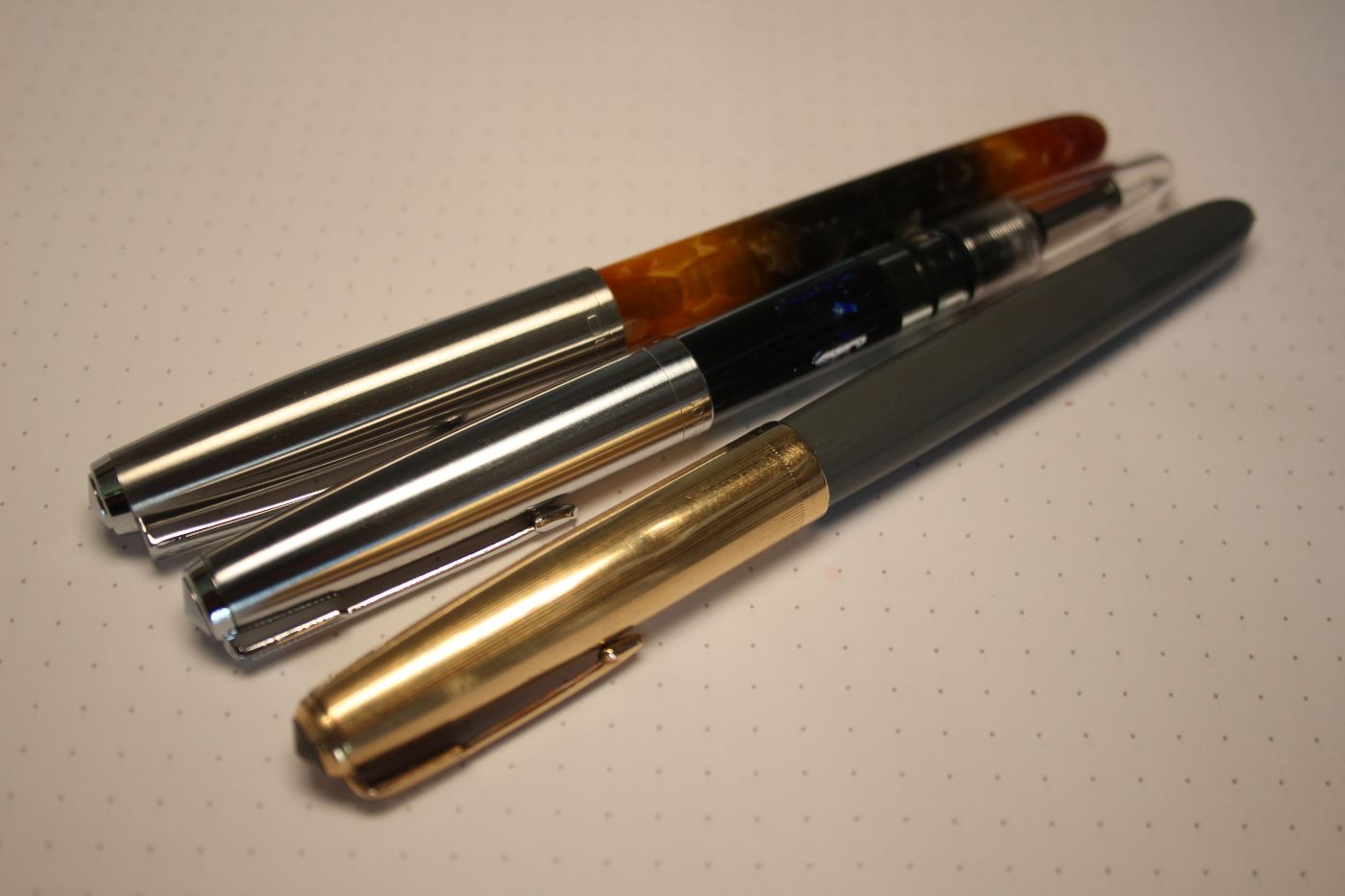 The best one remains the original Parker 51 with a 14K gold nib (I'm in the process of buying one). These are a bit more expensive and not as easy to get, especially when you're first starting out and don't know exactly what to look for, but they are worth taking a shot on if you really like hooded nibs. I will add the original 51 at the end of the article for anyone who's interested in comparing it to the knock-offs.
I haven't tried the KACO Retro Fountain Pen and Hero 616, but I have included them just because the fountain pen community seems to love these as well. I'll include some review videos by others to give you the full overview.
Here's a writing comparison of the Wing Sung 601, Jinhao 51A, and the Parker 51: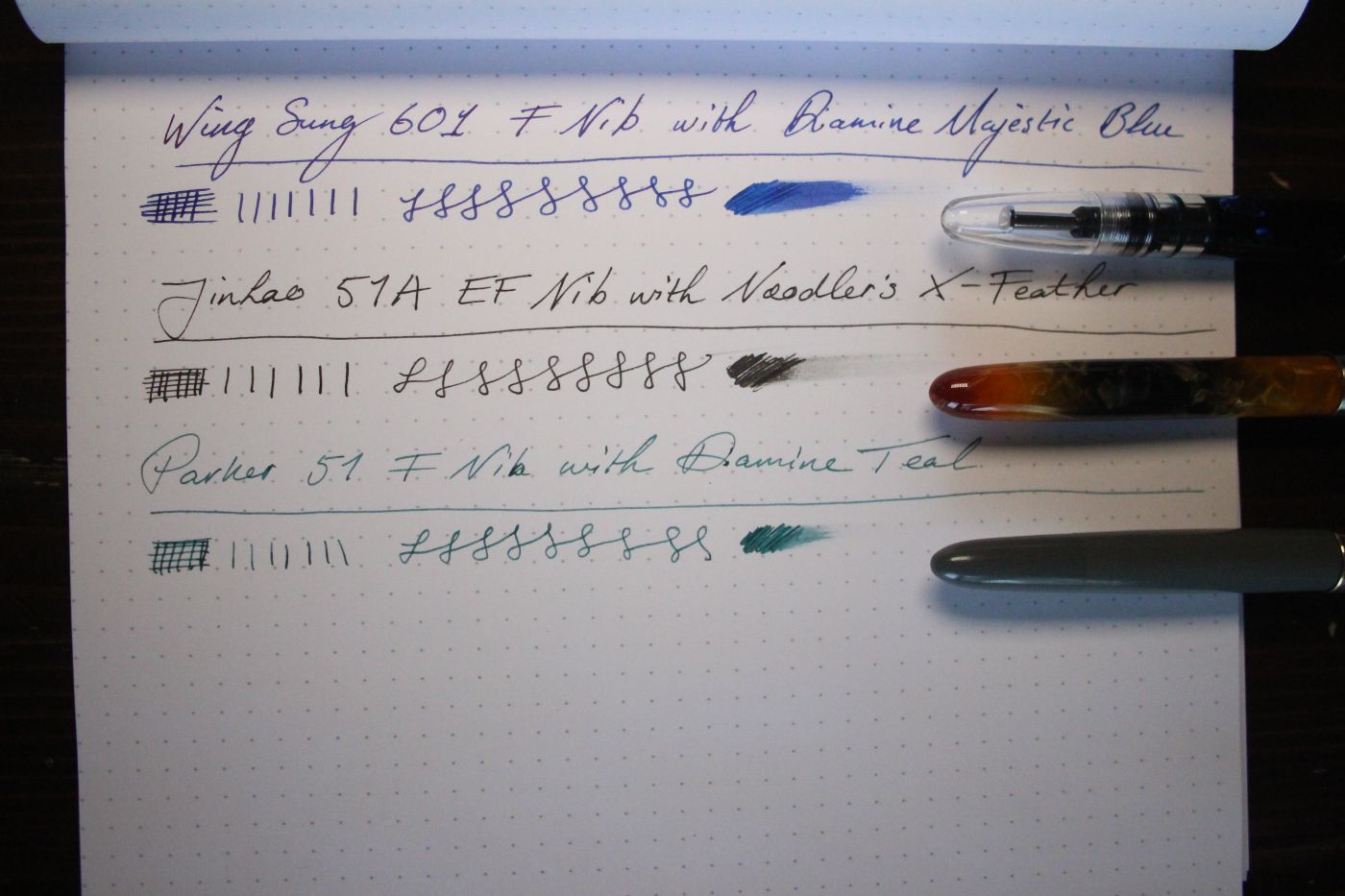 Wing Sung 601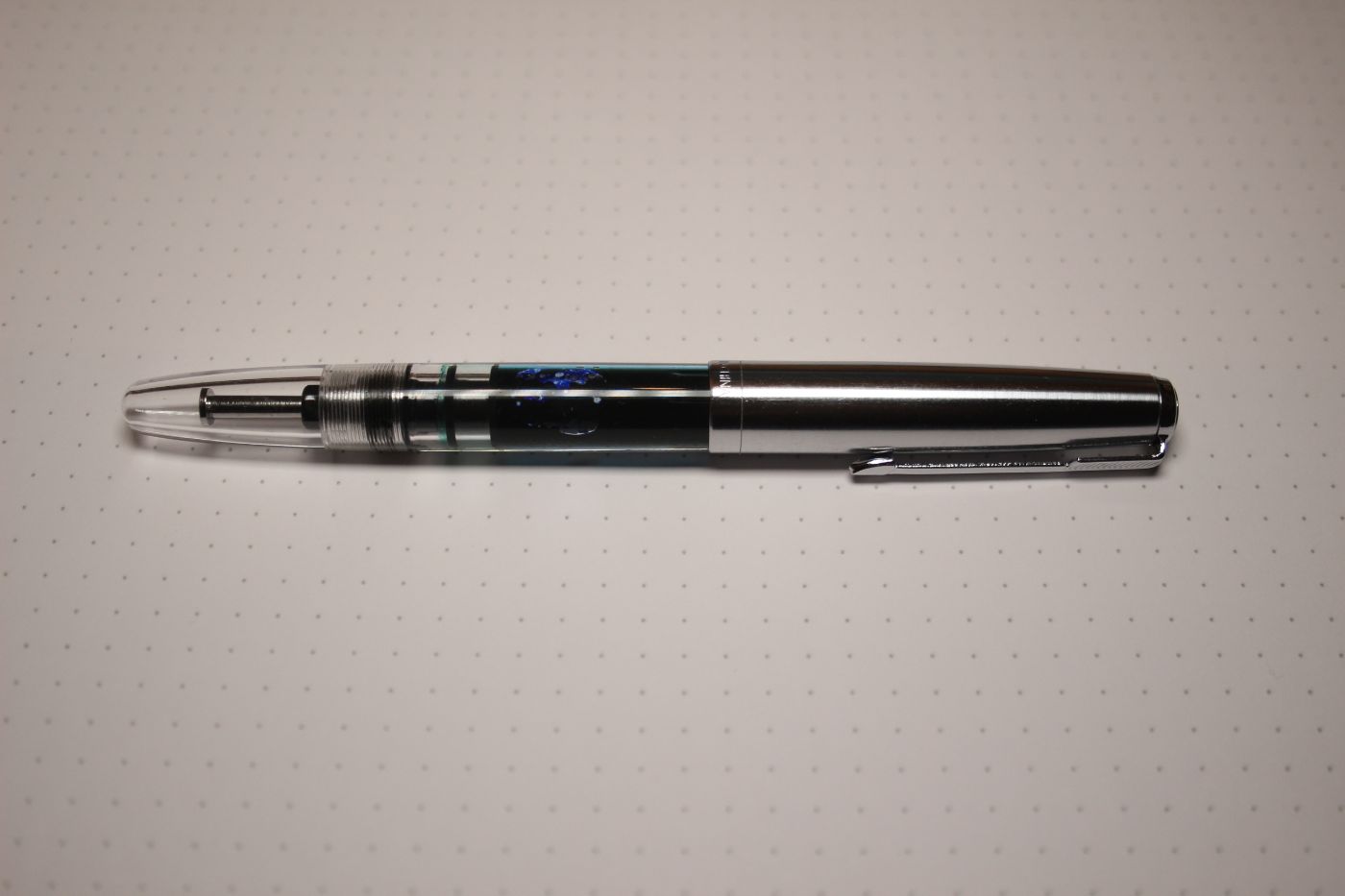 Name: Wing Sung 601
Price: around $10
Nib: (broad) F
Mechanism: Piston filler
Ink capacity: 1.6ml
My absolute favorite hooded nib on a budget is the Wing Sung 601, for multiple reasons. It has a piston filler that is actually pretty decent. It comes as a demonstrator. The nib is really smooth and writes more like a medium than a fine.
A cool-looking pen, with a good nib and a decent piston filler for around $10 is a great deal, in my opinion.
The piston filler mechanism works decently. It comes well greased and provides a large ink capacity of 1.6ml. You have to pump 4-6 times to fill it up completely. The nib and feed have never dried out on me while capped, so it seems to seal very well.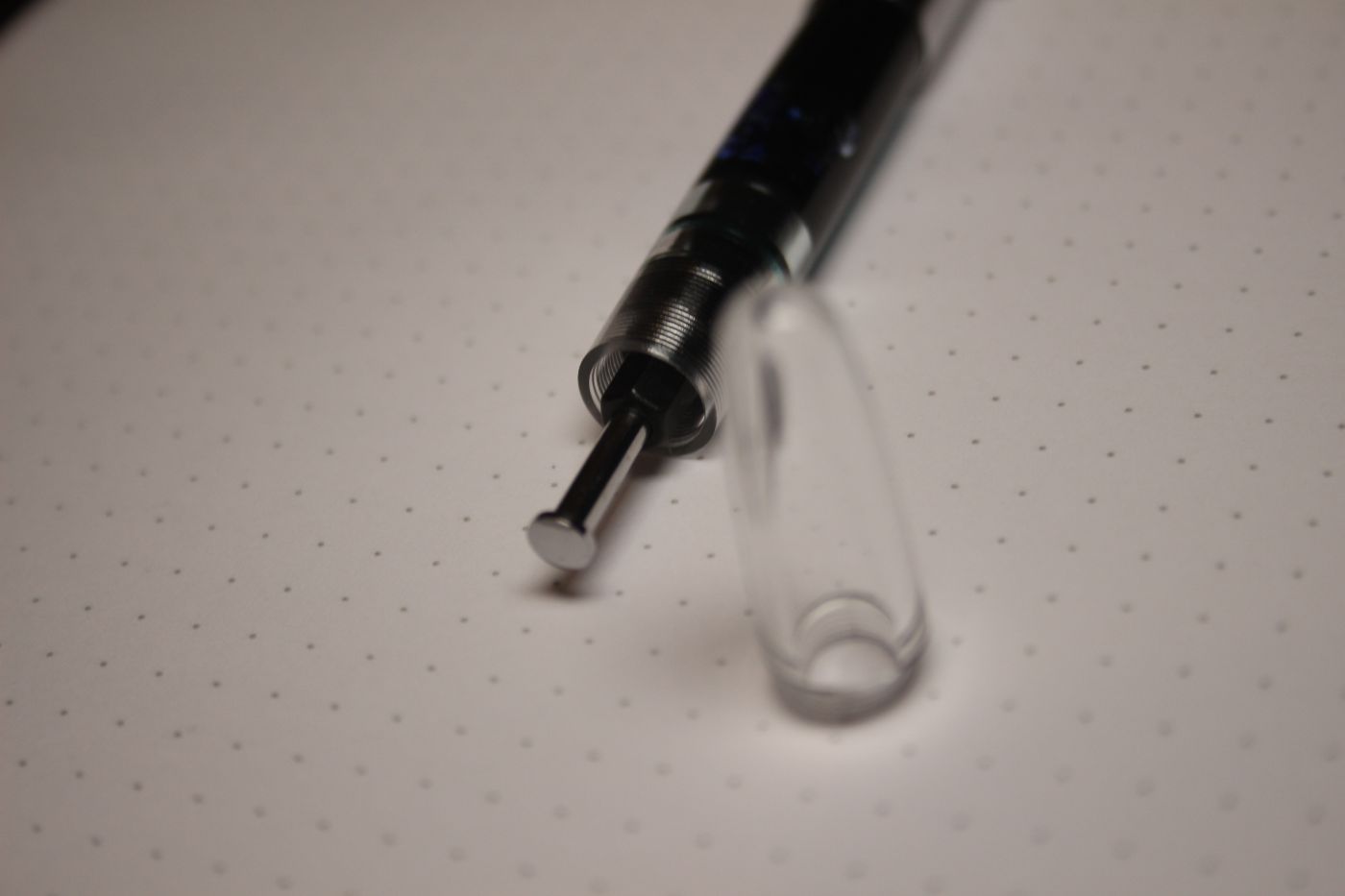 The Wing Sung is a well-rounded pen. It is well-balanced, and it feels comfortable in hand. It looks and feels like a Parker 51 all around. It is a bit heavier than other knock-offs, which is much needed with these generally light plastic pens. The solid colors have an ink window that works well (according to other owners).
I like the nib on the Wing Sung. Mine is almost buttery smooth, more like a Western pen than a Chinese one. It writes a bit like a Fine Stub, which is odd, but very cool as well. It does mean that it has a sweet spot to it, and it can be a bit scratchy at the wrong angle (it's not too bad). But at the right angle, it really writes amazingly well. This sweet spot may annoy you, and it does annoy me a little, but the pen overall is such good value that I still use it regularly.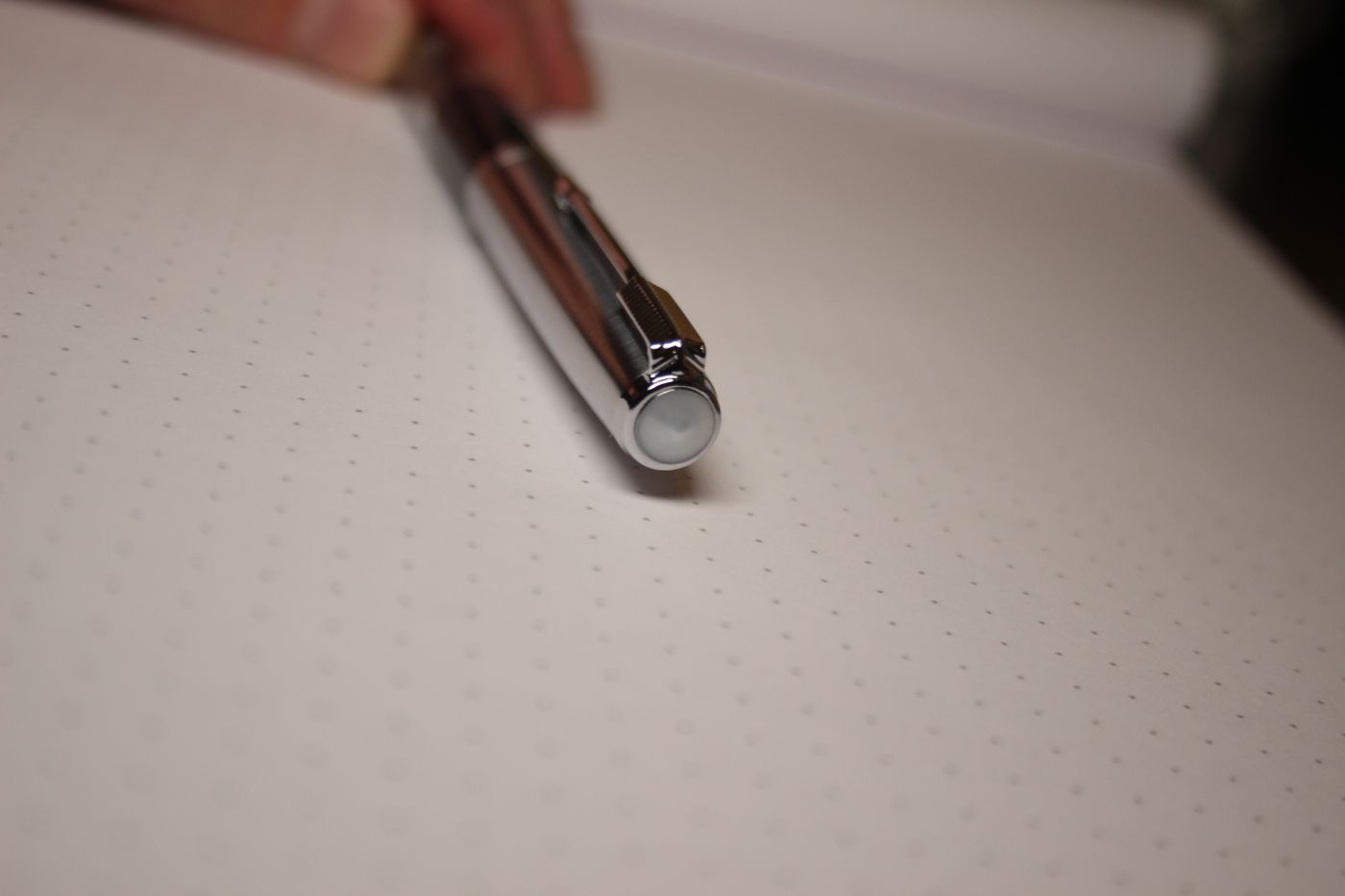 The best thing about the Wing Sung 601 is that it is a very reliable writer. It writes. Also, it writes more like a fine medium than an extra fine. Normally, all hooded knock-offs from China come in Extra Fine (EF) only. This one really writes like a fine medium.
With the right ink, it's a wet writer. I have read other reviews that say their pen is a bit dry. This could be a quality control issue since these cheap pens won't be as well checked as the more expensive pens. It could also be the ink choice. I use Diamine Majestic Blue, which feels like a lubricated oil to me. So with a lubricated oil, it writes very pleasantly.
Uncapped, the nib will stay wet a long time. I haven't timed it, but it hasn't caused me any trouble at all. I can't remember a single time the nib has dried out on me. That makes it a great note-taking pen.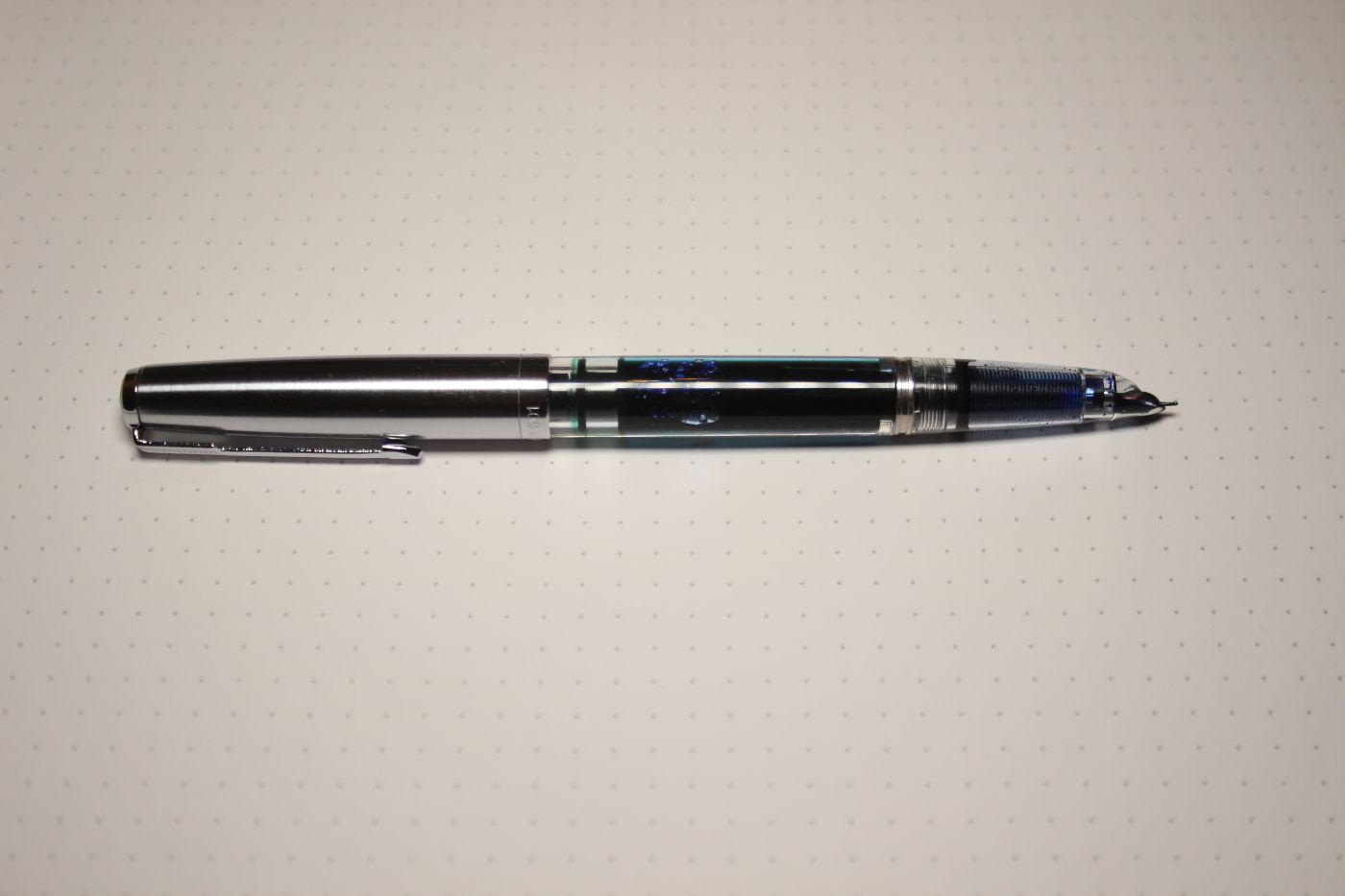 I am normally not a great fan of fine nibs, simply because they can be a bit dull. This one, however, I like a lot. It is a bit broader than most fines, and it is a lot wetter as well. Its straight edge makes me write with a natural slant that is very pleasant to the eye.
I think this is the best value for your money. It's a pleasant pen to fill, to see, and to write with.
Even sbrebrown is pretty positive about it:
Jinhao 51A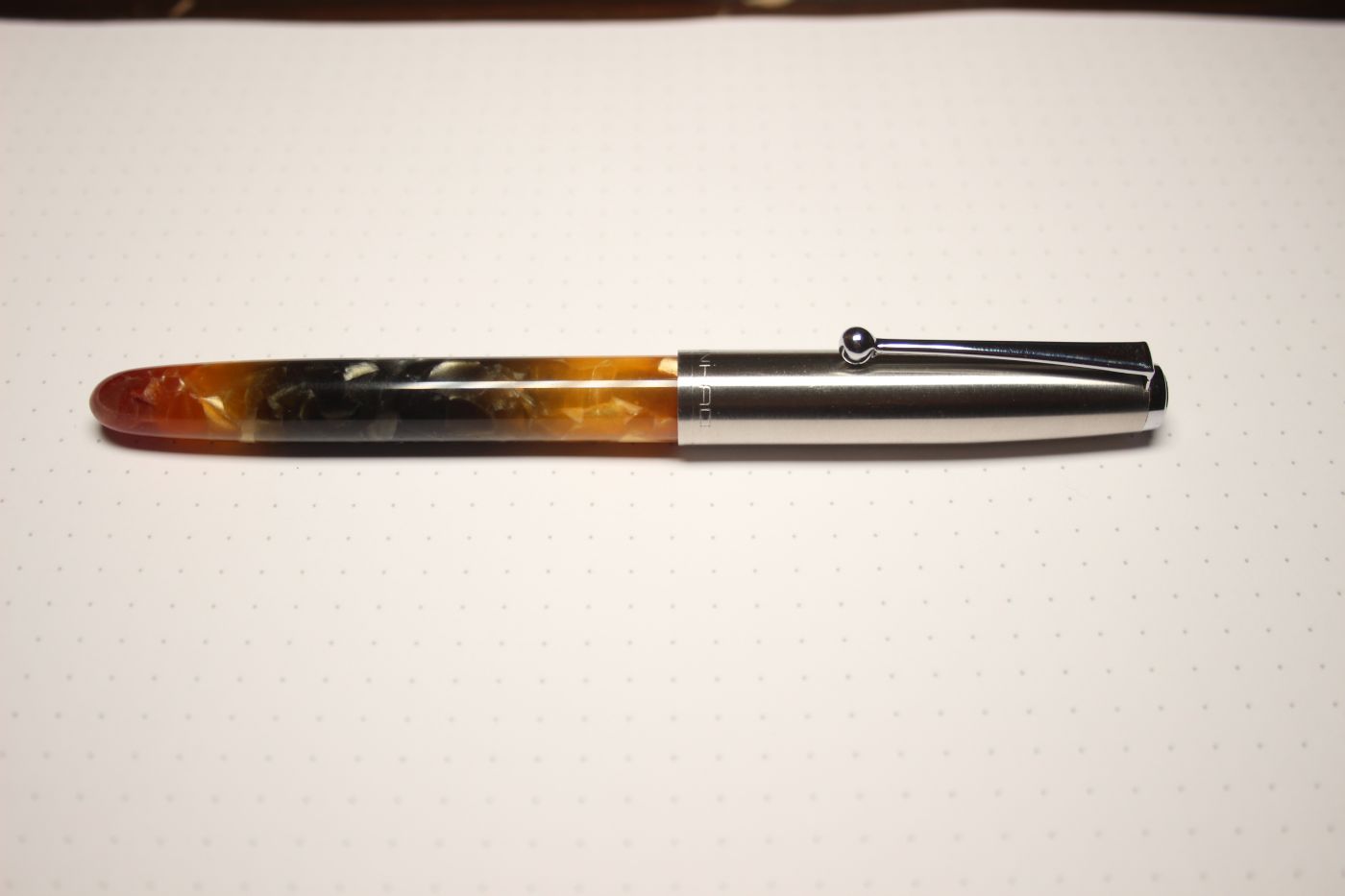 Name: Jinhao 51A
Price: around $5
Nib: EF-F
Mechanism: Cartridge/converter
The Jinhao 51A is another real knock-off of the Parker 51. It looks mostly the same and doesn't have any original features, although it is a bit slimmer in my opinion. The material feels a little on the cheap side compared to the Wing Sung, but that's okay since it is ten times cheaper. And it is incredibly cheap. I got mine for $6, but you can find them on AliExpress for around $5 including shipping. Some US retailers carry the 51A for between $10-15, which saves you the wait and you deal with a retailer you know and trust. You can even get it directly from Amazon.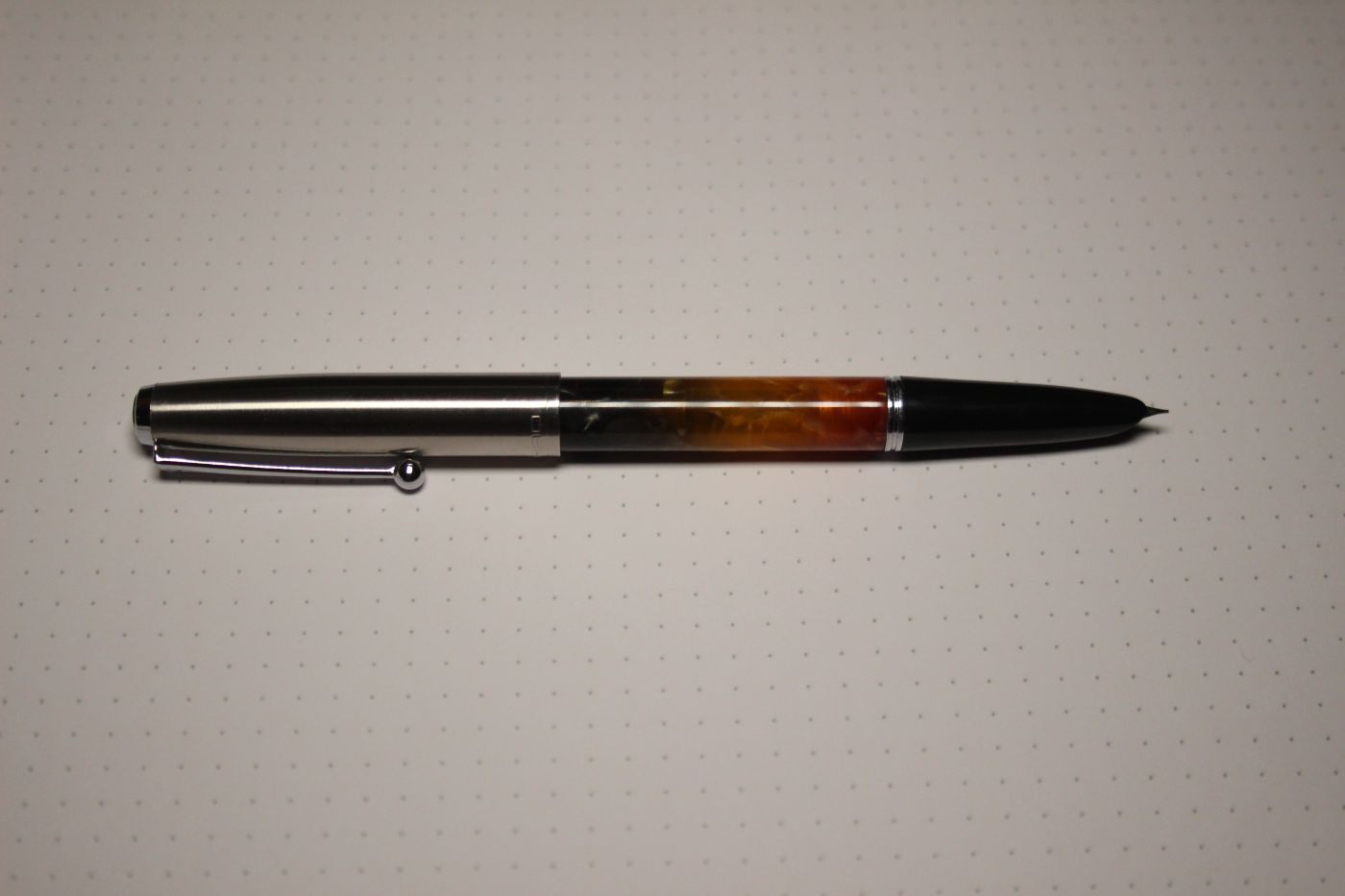 My Jinhao 51A came with a really smooth nib out of the box. I don't pick it up as often as my Wing Sung 601. For me, the nib is too fine and too dry; it tends to dry out a bit more than the Wing Sung. Also, the barrel is narrower and lighter.
It comes with a Jinhao converter that has a 0.6ml capacity. The converter feels a little cheap, but it works well, and it hasn't leaked (I've had it inked up for the last six months).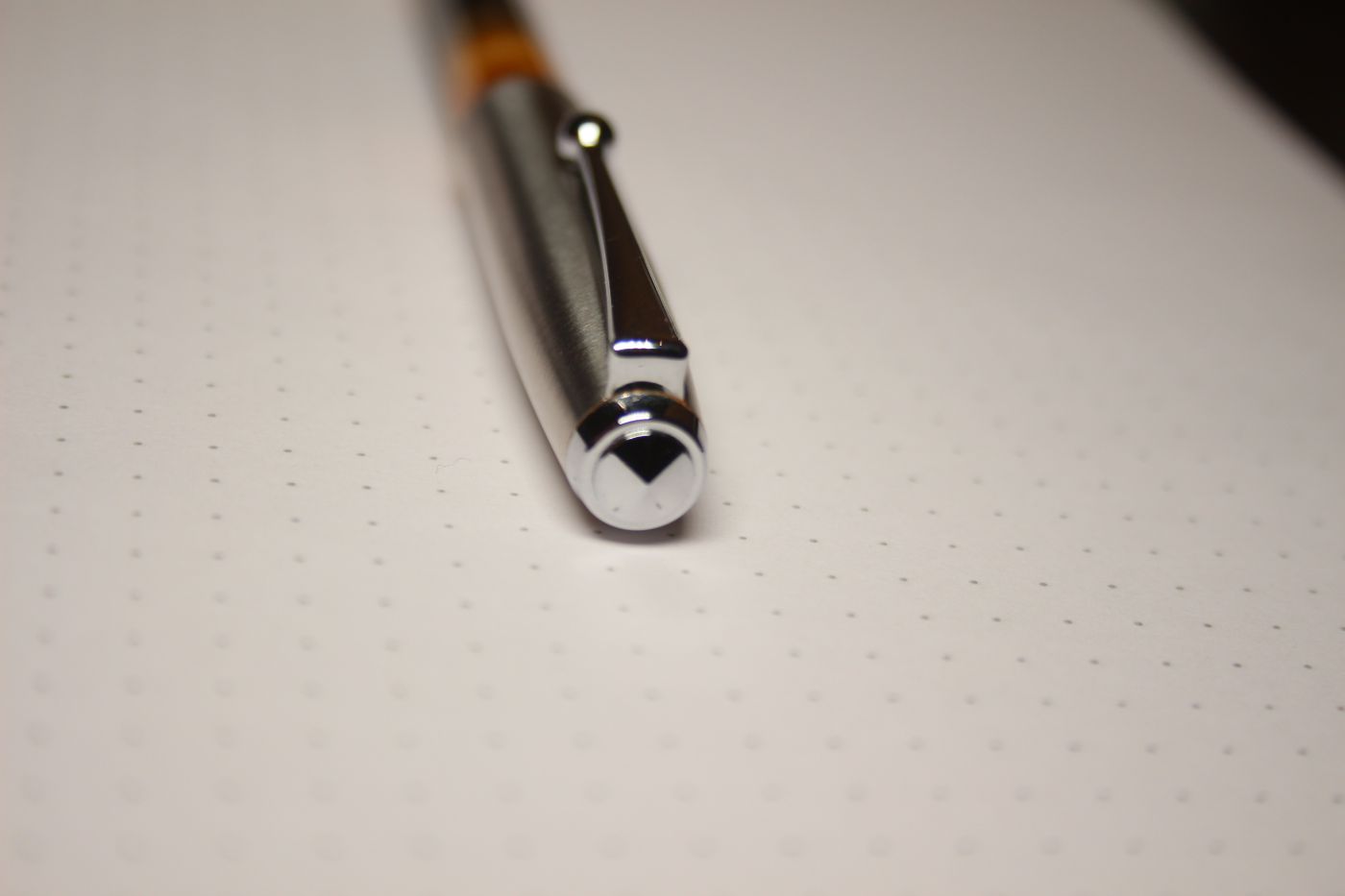 I like the resin body material. It is good-looking for sure. All in all, this pen is the best try-out hooded nib you'll get for the money, but it also feels a bit cheaper than the Wing Sung. They also come as demonstrators, but personally, I don't like them that much, since the only thing it does is show you the cheap converter.
The next three pens are honorable mentions: I haven't used them myself, but I have seen plenty of people in the fountain pen community who like these pens.
KACO Retro Fountain Pen
Name: KACO Retro
Price: around $15
Nib: EF
Mechanism: Cartridge/converter
The KACO Retro Fountain Pen has some original details to it, making it more of a tribute than a knock-off. The design is cool, a bit Bauhaus, and the clip looks a bit like an IKEA-version of the round-ball Pilot clip. It only comes in Extra Fine, so I think it will write like the Jinhao. It wouldn't surprise me if they used the same nibs. It is pretty expensive in my opinion, more expensive than the Wing Sung, and I think you'll mostly be paying for the design.
It comes in vibrant 60s colors and comes with a decent converter. I've read that their plastic caps are prone to cracking, a problem you won't have with the Wing Sung or Jinhao, since they come with steel caps.
Read the full review by Gentleman Stationer here.
Hero 616
Name: Hero 616
Price: around $10
Nib: F
Mechanism: Aerometric converter
Said to be a very lightweight pen that's a bit unbalanced when posted, this is very much the same pen as the Jinhao 51A, in my opinion. People are mildly positive about this pen; the nib does have a sweet spot and is less well-polished than the Jinhao 51A, I think. They are known to leak and skip, so while it is a cheap pen, I would recommend a Jinhao 51A over it.
Parker 51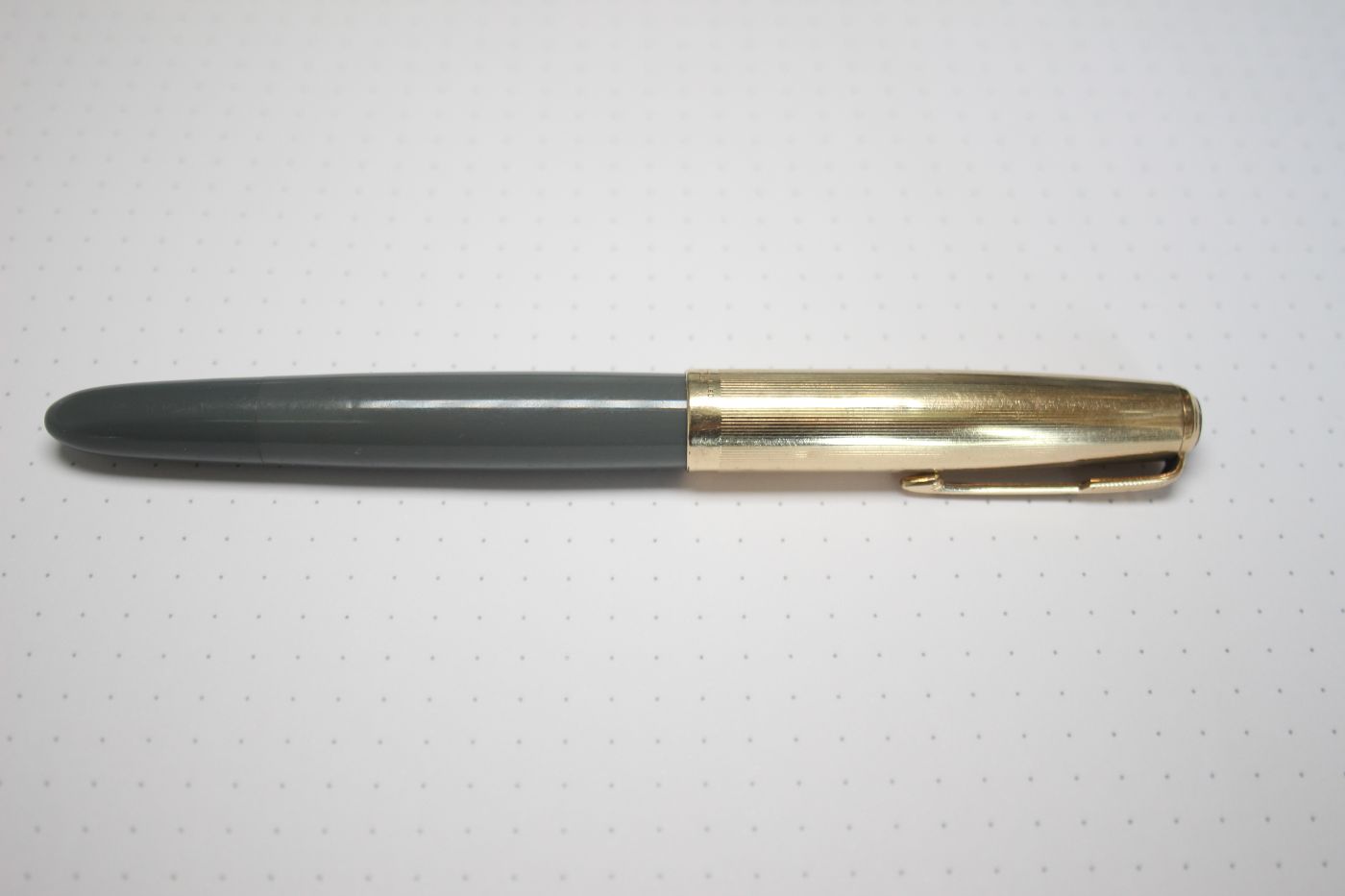 Name: Parker 51
Price: around $50
Mechanism: Vacumatic / Aerometric
Ink capacity: 2ml / 1.6ml
Nib: 14K EF-F-M-B
If you shop around a little on eBay, you will most likely find a Parker51 with a 14K gold nib for around $40 - 50. That's not cheap, but for a gold nib, it is a lot of value for your money. These Parker 51s come with outstanding gold nibs in all sizes. With second-hand pens, you do have to get a bit lucky to get one in good condition, but in my opinion, it is worth a shot or two.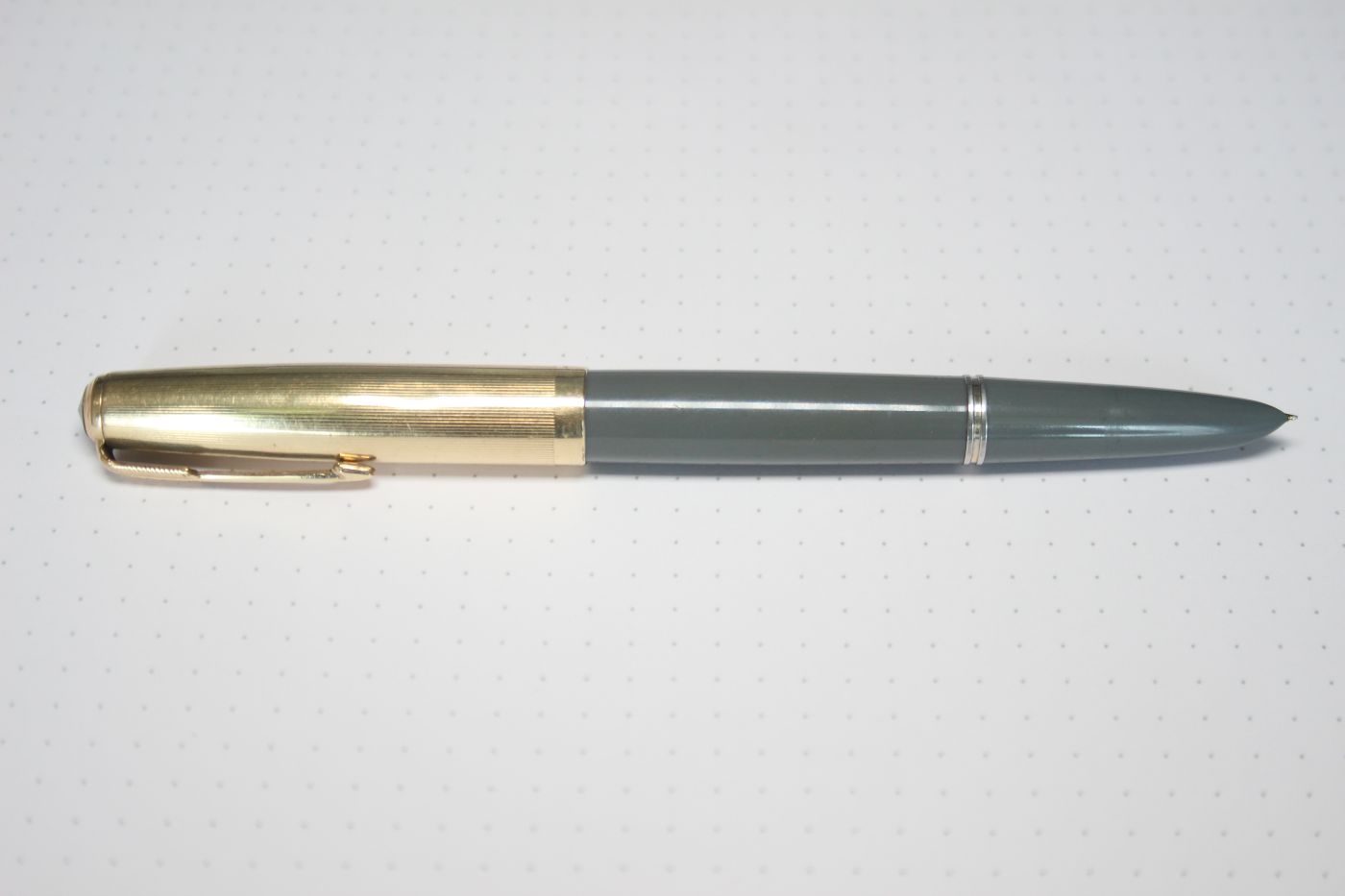 Not all 51s have gold nibs: some come with Octanium nibs (which is Parker marketing slang for 'steel'). If the nib in the picture has a golden color, it is a gold nib, as the Octanium nibs were never gold-plated.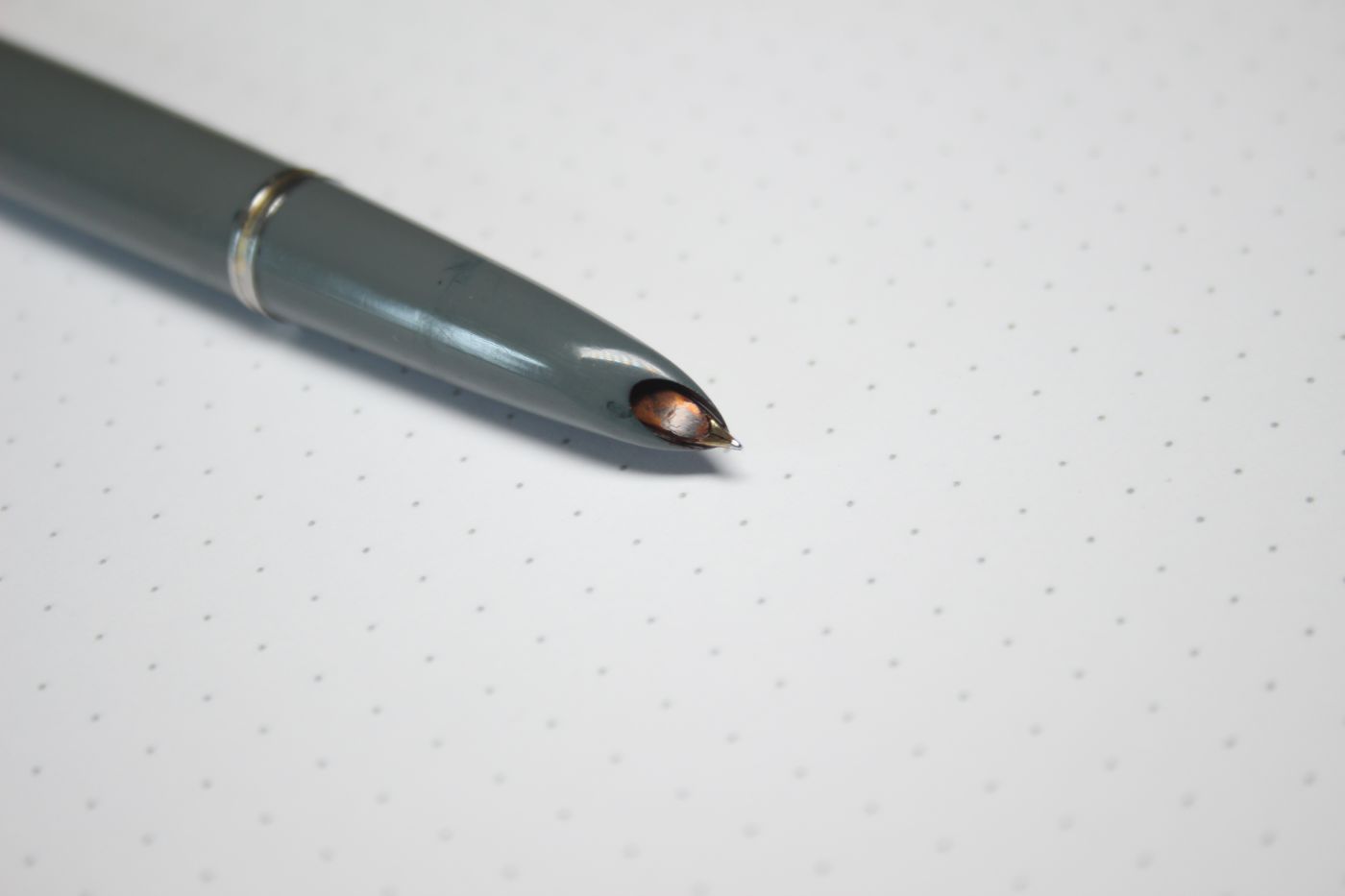 Another cool thing about the Parker 51 is the filling mechanism. The originals are vacumatics, and the later models have an aerometric converter. The vacumatics can be in need of maintenance, but if you find a working one, they are really cool. You simply press a button at the back of the pen, and it sucks itself full of ink. The aerometircs are bit lower maintenance and are easier to work on.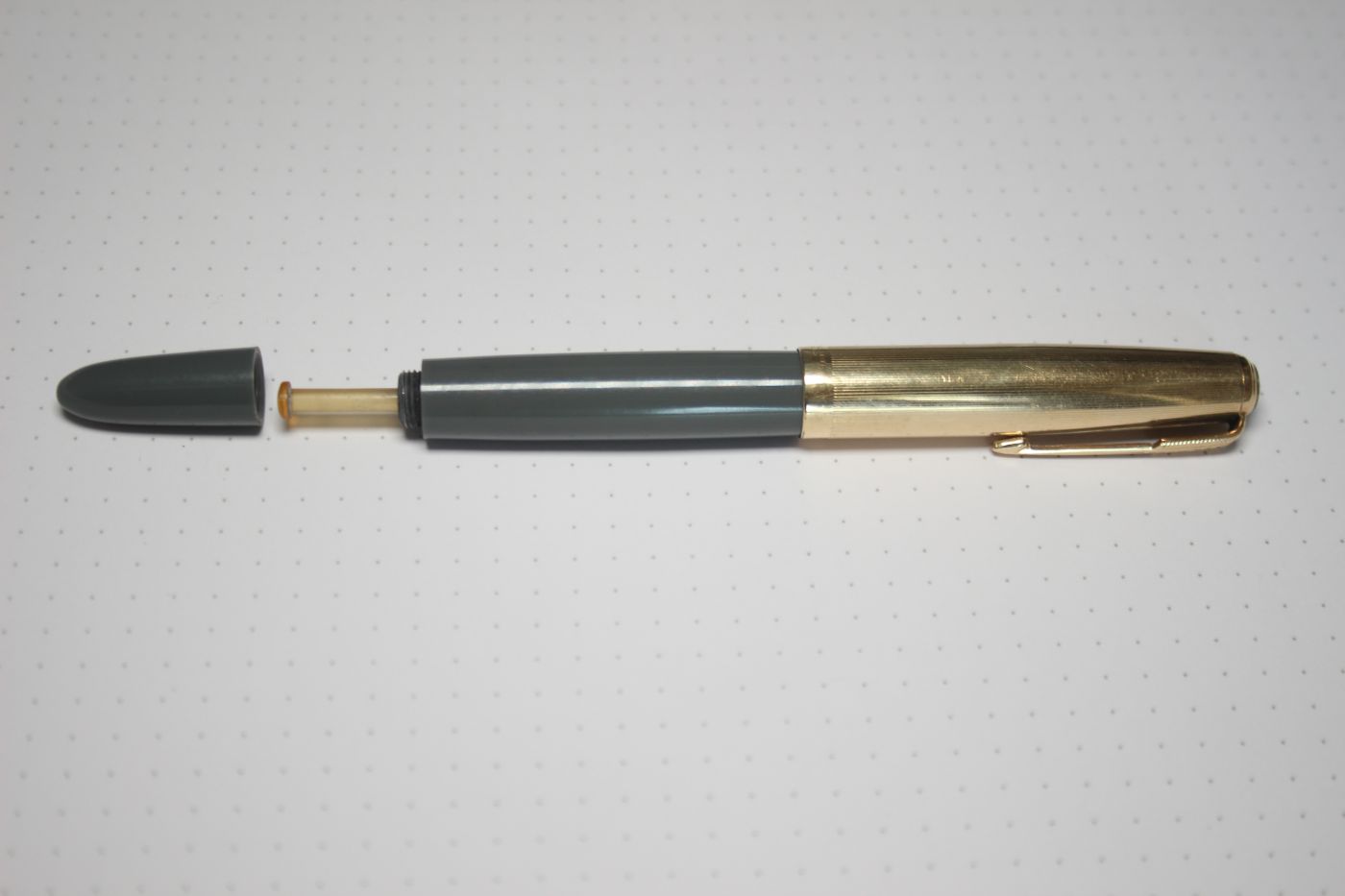 If you happen to like vintage fountain pens, you'll appreciate the retro design and the history of these pens. Parker 51s come with gold-filled caps, which are gorgeous (and worth the price of the pen in gold too). They quickly depreciate in value when the cap is dented or not mint. If you don't mind a little dent or a scratch, you can get a very good hooded nib (which has stood the test of time), the original legend, for under $50. You will have to look around a bit, as some are a bit more expensive. There are plenty of restored ones out there as well, with a tested nib, but you will pay a small premium ($10-20).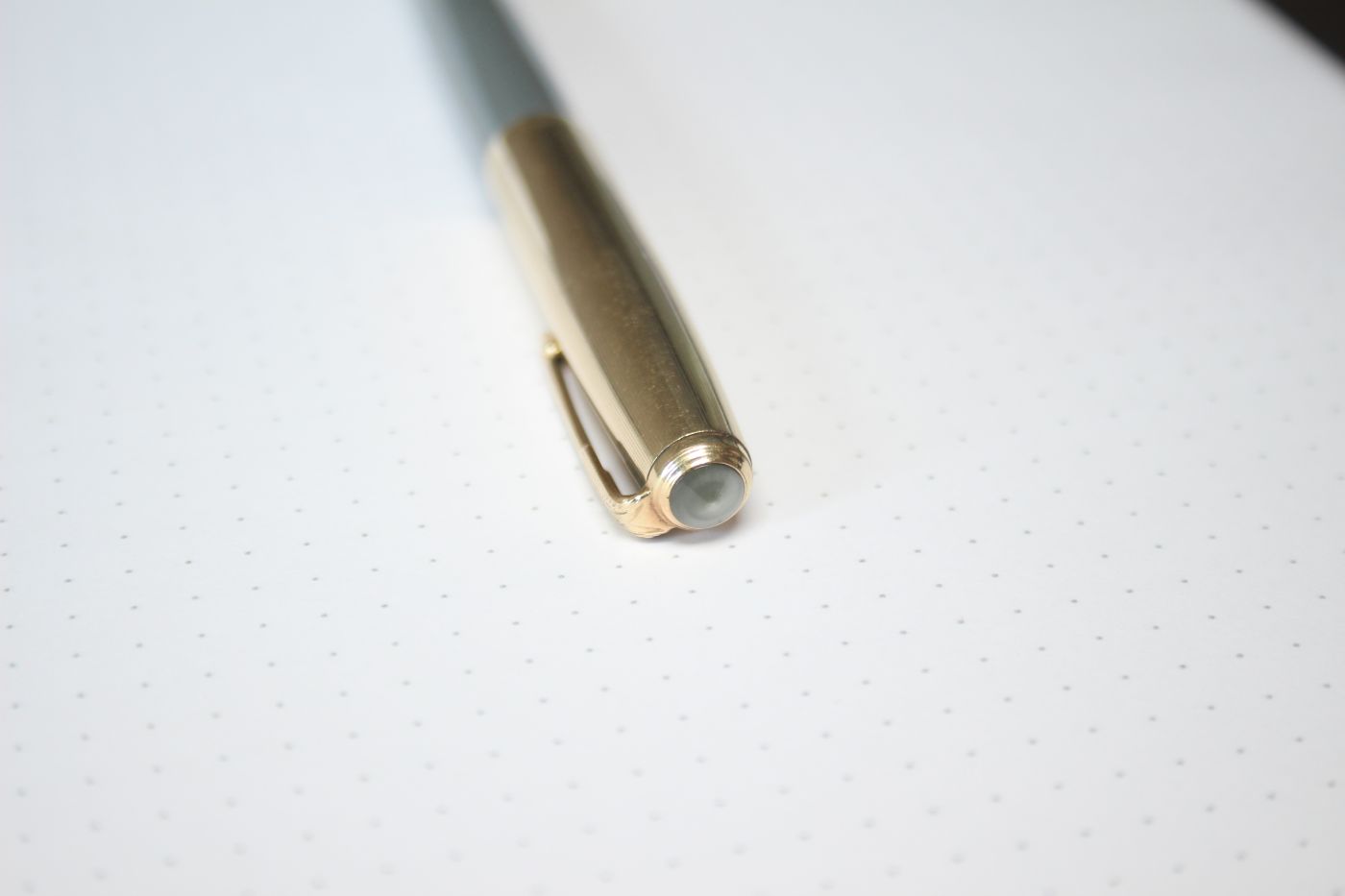 If you want help with identifying a particular Parker 51, I recommend ParkerPens Penography, which is the best resource I've found for finding out more about every model 51.
The best-value hooded nib fountain pens:
Best Buy: Wing Sung 601
Budget: Jinhao 51A
Best hooded fountain pen: Parker 51 with 14K nib
There is a full list of hooded fountain pens on the Fountain Pen Network.
Did you find the answer to your specific question?
👍

7
👎

1