How Much Ink Is in a Fountain Pen Cartridge & Converter?
There are many different fountain pen ink cartridges and converters, all with slightly different ink capacities. I've compared each type below so you don't have to.
The average ink cartridge will hold 0.7 to 1.2ml of ink, with short cartridges of 0.7ml being the most common. The average converter will hold between 0.6ml and 1ml of ink, with 0.8ml being the most common. The average piston filler fountain pen holds 1.2 to 2.5ml of ink. The average eyedropper pen holds around 2.5ml of ink.
I can get a lot more specific than those ranges, so I will be listing every cartridge and converter I could find or measure myself, including some pens.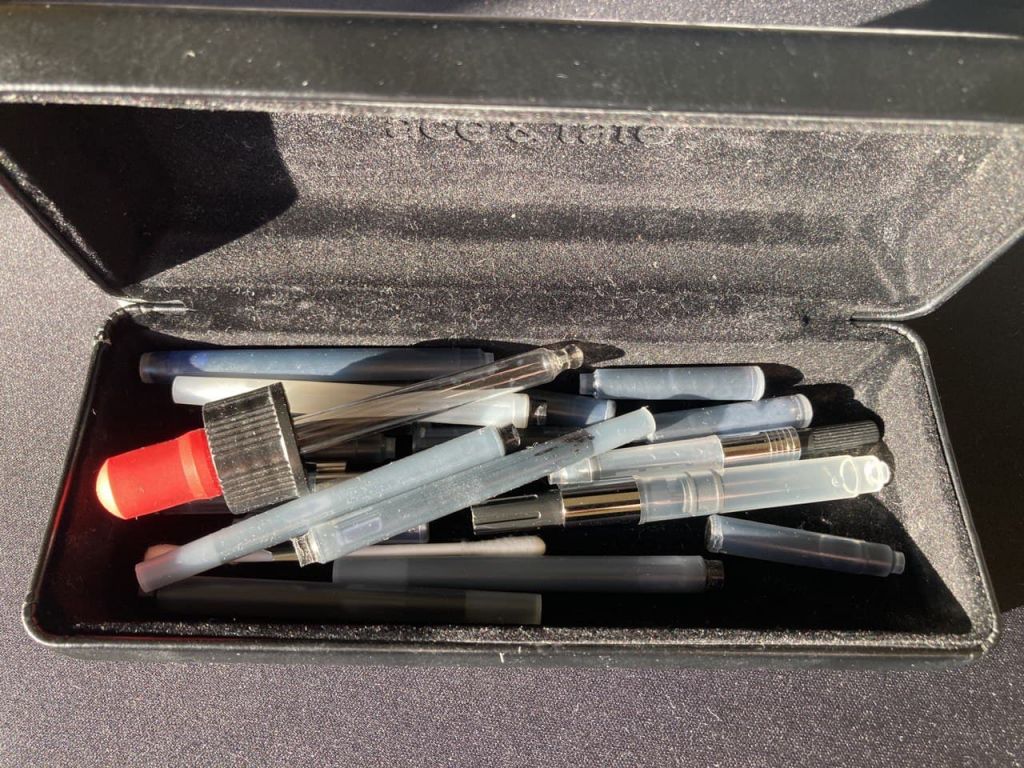 Comparison of Cartridge & Converter Ink Capacity
Below you'll find a comparison of the ink capacity of differently-sized cartridges and converters. As you'll see, converters hold less ink than cartridges. All are within the same capacity range.
Cartridge ink capacity
Short international cartridge: 0.7ml
Long international cartridge: 1.45ml
Lamy T10 cartridge: 1.15ml
Parker long Quink cartridge: 1.4ml
Converter ink capacity
Lamy Z27 converter: 0.8ml
Lamy Z28 converter: 0.8ml
Pilot Con-20: 0.9ml
Pilot Con-40: 0.61ml
Pilot Con-50: 0.6ml
Pilot Con-70: 1-1.1ml
Montblanc converter: 0.5ml
Graf von Faber-Castell Converter: 0.9ml
Parker standard converter: 0.6ml
Parker long squeeze converter: 0.9ml
Parker short squeeze converter: 0.5ml
Pilot Custom 74 (Con-70): 1.1ml
Pilot Metropolitan converter: 0.9ml
What is surprising about this comparison, is that most regular converters hold less ink than short international cartridges. This is even more the case for long international cartridges, as well as Lamy's and Parker's long cartridges: those hold substantially more ink than most converters. This is to be expected, since the converters use filling mechanisms while having the same available space in the pen body. Typically, converters hold substantially less ink compared to their similarly-sized ink cartridges.
If you want to know how long each cartridge will last you, I've researched that as well. You can learn exactly how many pages you can write with different nibs here (jumps to section in article on cartridge economy).
Below, I'll discuss some of the cartridges and converters in more detail, and we'll touch on the ink capacity of different fountain pens too. Spoiler: most fountain pens hold way more ink than when using a cartridge, but you'll still be surprised at the massive amount of ink some of them can hold.
More detailed discussion on ink capacity
An international short cartridge holds approximately 0.7ml of ink, which will allow you to write roughly 45 pages with a fine nib, 18 pages with a medium nib, and 14 pages with a broad nib.
International ink cartridges contain either 0.7ml of ink (short) or 1.45ml of ink (long). Their dimensions are 38mm long or 73mm long respectively. They are both 7mm in diameter.
A standard Parker cartridge can hold up to 1.4ml of ink, but since these cartridges aren't filled completely, they contain 1.18ml of ink instead. 0.15ml of that is in the emergency reservoir. This amount will allow you to write roughly 76 pages with a fine nib, 30 pages with a medium nib, or 24 pages with a broad nib.
There are different Parker pen refills available, but all have the same opening size. The most popular is the standard long cartridge, which is 75mm long and 7mm in diameter and includes an 0.15ml emergency reservoir supplementing the main reservoir of 1.3ml. Parker also makes short Quink cartridges, which hold around 0.8ml of ink and is 38mm long and 7mm in diameter.
A standard Montblanc converter holds 0.5ml of ink, making it one of the lowest capacity converters available, with the next smallest being the Pilot Con-50 with a capacity of 0.6ml.
Ink Capacity of Fountain Pens
Below is a selection of piston-filler and eyedropper fountain pens taken from my detailed comparison of the ink capacity of fountain pens for comparison with the cartridge and converter capacities above. As you can see, the ink capacity of fountain pens that don't use cartridges or converters is typically higher, as we would expect.
Piston-filler fountain pens
Pelikan M800: 1.2ml
TWSBI Eco piston: 2.5ml
Lamy 2000: 2.67ml
Pilot Custom 823: 1.3ml
Montblanc 146: 1.4ml
Montblanc 149: 2.1ml
Eyedropper fountain pens
Moonman C1: 4ml
Moonman M2: 2.5ml
Noodler's Charlie Pen: 2.5ml
Opus 88: 2ml
All these numbers are good and well, but how long can I write with them? Let's explore that exact question now.
How Long Can You Write with a Fountain Pen?
I've looked into how long you can write with a fountain pen comparing three different nibs (fine, medium, broad) to get an idea of how exactly how many pages each type of cartridge or converter will get you. The results were quite surprising. Typically, a full standard cartridge will write 14-45 pages, depending on nib size. Long cartridges will write roughly 29 to 93 pages.
However, it all depends on the nib size, paper, and ink type. If you want to learn more, you can read my research on how long a 50ml of ink will last. Here, I'll calculate ink consumption and how long you can use each converter before needing to refill.
Did you find the answer to your specific question?
👍

9
👎

1