File Cabinets Worth Considering (For Serious Note-Storage)
There are four things to consider when looking for a file cabinet. If you take those, and your budget, into account, the choice of which one to buy is easily made.
I recommend the DEVAISE 3-Drawer File Cabinet if you're just starting out with creating a serious note-storage system.
There are alternative for different price points that will do just fine too.
Here are my top 3 recommendations
Best value: DEVAISE File Cabinet (check price on Amazon)
Best budget pick: Fire-resistant file bag (check price on Amazon)
One-and-done: Bisley file cabinet XL (check price on Amazon)
Even the budget file bag will allow you to store probably 1-2 years of notes, depending on how much you write. I'll explain more on that later.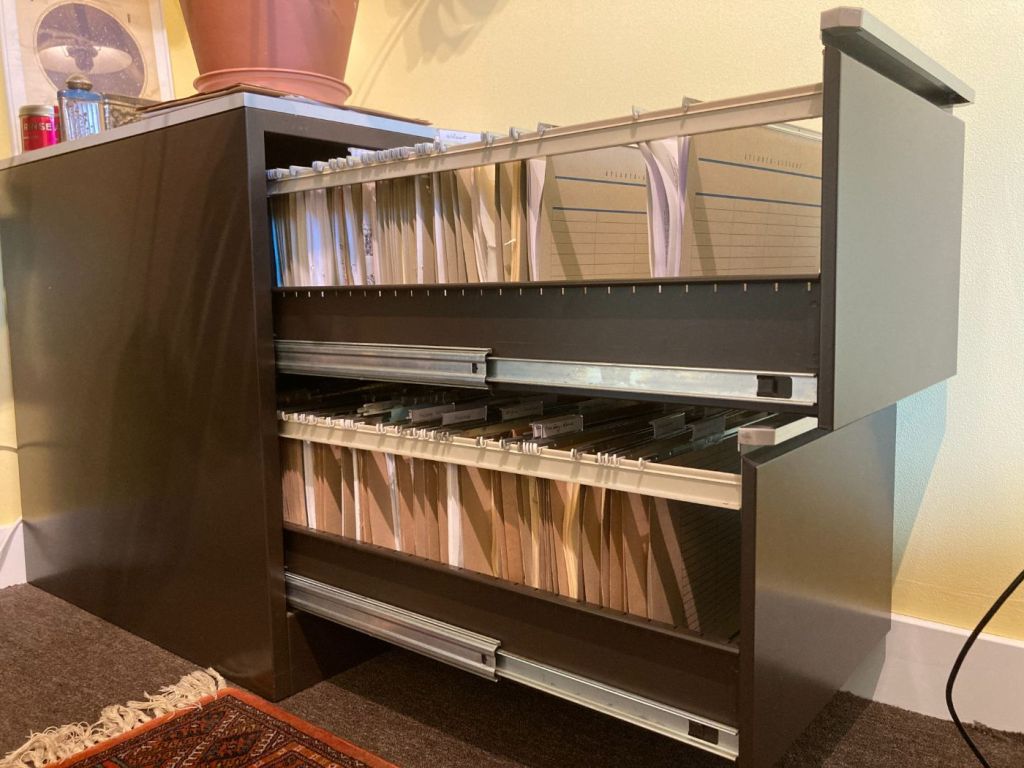 Things To Look For in a File Cabinet
You want a hanging file frame
Fully extending drawers
Able to take some real weight
Ideally it has a lock
How much space do you need?
You probably need less space than you think. One drawer might be all you need for the next 5 years or so.
The way to calculate is to take the drawer depth, and divide by 52mm. That's the depth of one ream of paper.
One ream of paper is 500 sheets. 500 sheets is one pack of regular copy paper.
For each of my recommendations, I've calculated how much sheets the cabinet will be able to hold.
I have a 2 drawer (both 30" deep) file cabinet, which can hold up to roughly 20,000 sheets. I've been trying to fill her up for over five years now and I'm not even half-way there.
Best pick: DEVAISE File Cabinet
I think the best value file cabinet is the DEVAISE 3-Drawer File Cabinet (check price on Amazon) I just mentioned. It has the classic file cabinet look, which I'm a fan of, and it should be able to hold up to 6 reams or 3,000 sheets.
I already have a larger file cabinet but am considering this one as a printer cabinet, as it comes with two regular drawers. In my opinion, there's no such thing as too many drawers.
DEVAISE alternative
Amazon Basics offers a file cabinet which is very similar and is cheaper from time to time. I'm not a fan of the modern 'open-handle' look, but it will work just fine.
Best budget pick: File Bag
If you're on a real tight budget, you can start out using a file bag instead. This is a super cheap file bag (check price on Amazon) which should hold up to 4 reams of paper or 2,000 sheets.
Personally, I'm not a fan of the looks, but if it's actually fire resistant, as it claims, it could be pretty good value.
One-and-done pick: Bisley XL
Bisley is a renowned cabinet manufacturer from the UK that has decades of experience. Their file cabinets are good quality (and pricy too).
This 4-drawer unit should hold up to 40 reams or 20,000 sheets, while still having a pretty reasonable footprint.
Bisley alternative
These BYNSOE 2-Drawer units seem pretty reasonable. I can't vouch for the quality because I've never seen them in real-life, but plenty of people seem to like them and the price point is good. They have a very significant capacity of roughly 30 reams (15,000 sheets of paper) and are only 16" deep, so their footprint doesn't seem too bad.
Did you find the answer to your specific question?
👍

0
👎

0