The Safest Fountain Pen Inks: 12 Examples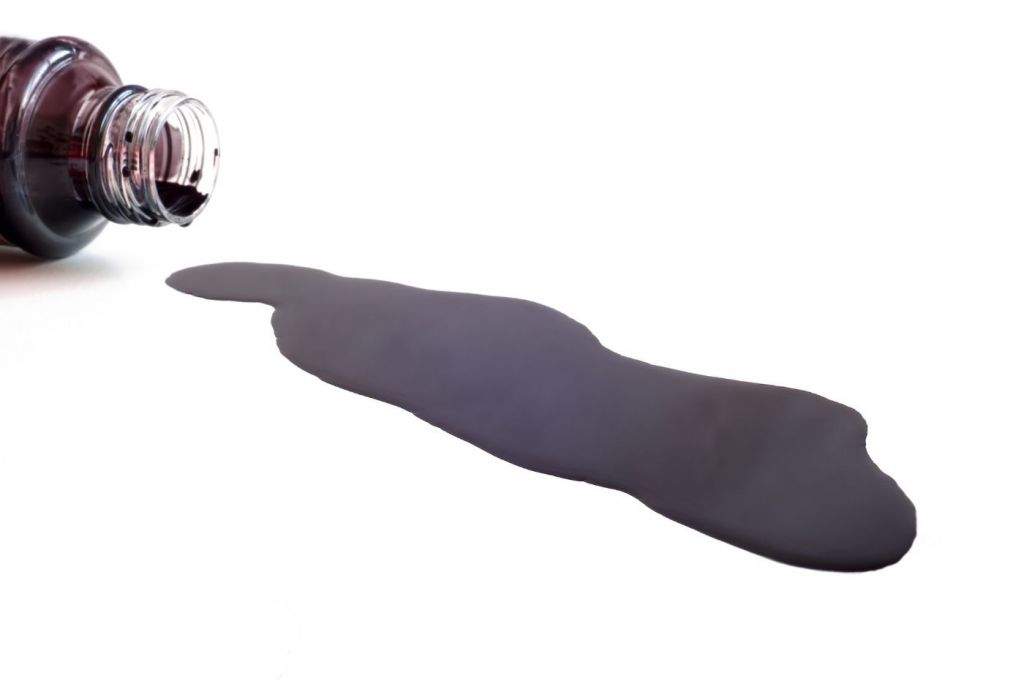 What makes fountain pen inks safe is controversial, and marketers may profit from obscuring the discussion. In this article, I'll list tried and true inks, as well as explore the different points of view on ink safety.
Safe fountain pen inks are Waterman Blue, Pelikan 4001 Blue, Parker Quink, Sheaffer Skripp, and generally any other basic color by well-known manufacturers. Non-permanent blue inks are considered the safest ink, since blue requires the least amount of pigment.
There is a large consensus on the safety of blue and black fountain pen inks by large manufacturers, such as Pelikan, Parker, Waterman, and Sheaffer. However, lately, this consensus has been challenged based on the pH values of these inks. We'll discuss the reasons and possible alternatives below.
The Safest Fountain Pen Inks
As said, there are two schools of thought: pigments are unsafe, or acidity is unsafe.
The first argument goes as follows: heavily pigmented inks clog up the pen, where the pigment sits and corrodes the pen. Acidity is irrelevant. The second argument: acidic inks corrode the pen, and pigments are irrelevant.
I do not know which of those statements is more valid, but I do know from my own experience that acidic liquids do actually corrode materials without exception. Perhaps some pigments contain acids or materials that are prone to reacting with pen parts too - I'm unsure. What I do know, based on my own observations, is that acidity does matter. I'm just not sure how much.
That being said, let's list some safe inks based on both of those theories.
Safe inks based on track record
Waterman Blue
Pelikan 4001 Blue
Parker Quink
Sheaffer Skripp
Diamine
The internet is full of reports on the safety of these inks. Any basic color of the pen brands will typically be safe for use and low maintenance. Not only are these very experienced ink manufacturers with long-standing track records, they also have an interest in producing safe and well-behaved inks, in order to uphold their brand and reputation. However, most of these inks are very acidic, which in theory could damage parts of your pen over time, such as piston filler seals.
Safe brands based on ink properties
Herbin - their inks test safest
Diamine - famous for producing safe inks
Noodler's - safest permanent ink
Herbin: their inks test safest
Herbin inks consistently test in the pH neutral range. They only use natural dyes, which sounds good, but there are probably plenty of natural ingredients that corrode pens. Their inks are pretty thin too, making them easy to clean and low-maintenance. As far as I know, they are not waterproof or fade-resistant.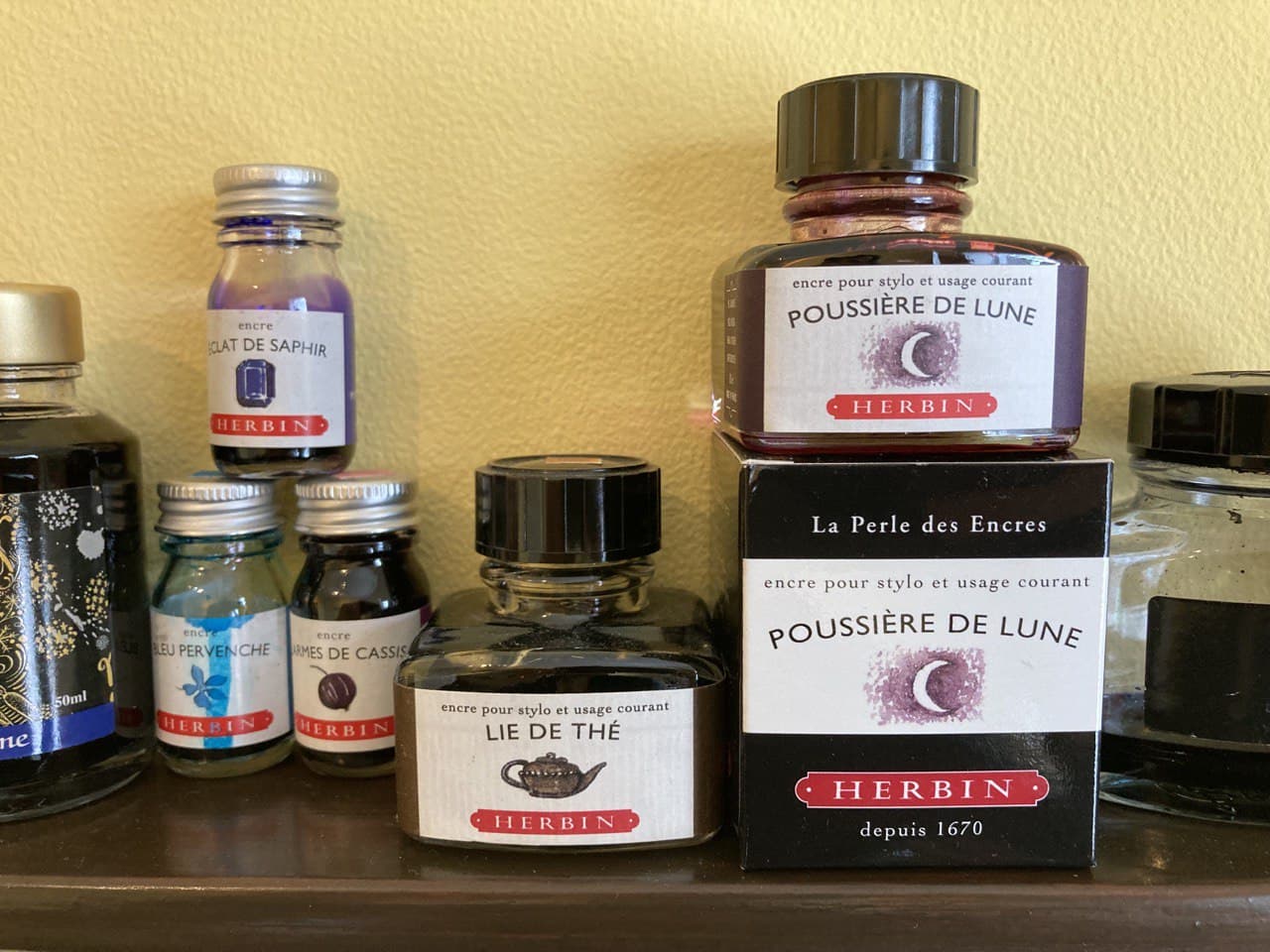 Diamine: famous for producing safe inks
Diamine is a reputable ink manufacturer with a reputation for non-toxic, non-clogging inks that write wet and look great. Some of their inks do test pretty acidic, but it is widely considered one of the safest bets for all types of fountain pens.
Noodler's: safest permanent ink
Noodler's inks can be considered pH neutral as well (they test somewhat alkaline). However, their inks are heavily-pigmented and a lot of them are permanent and waterproof. Their blacks especially are very well-behaved, permanent, and pH neutral, making them the safest permanent ink I know of.
Safe inks based on pH value
I've pH tested dozens of inks and the results were quite surprising. The inks below all tested within 0.5 pH of being perfectly pH neutral, which means their pH value lies between 6.5 and 7.5, and they should be as corrosive as tap water.
Safest inks based on pH value:
Diamine Imperial Purple
Diamine Pumpkin
Diamine Teal
Herbin Blue Pervenche
Lamy Obsidian
On the other hand, I've found inks that are highly acidic, which means they are about as sour as a lemon. You might want to avoid these inks if you think acidity is important:
Inks that are acidic:
Pelikan 4001 Black Blue
Diamine Oxblood
Diamine Red Dragon
Faber Castel Royal Blue
Parker Quink Black
Diamine Chocolate Brown
If you consider acidity important, I recommend checking my ink pH test: I've listed the exact pH values of dozens of inks here.
Safe inks for vintage fountain pens
Experience teaches us that pH level isn't the only important ink property for use in vintage pens. Some inks are tried and true, even with a low pH (or high acidity), like Pelikan 4001 Black Blue. On the other hand, other (low-acidity) inks can easily stain or clog pens because of the type of dyes or pigment.
Luckily, there are plenty of good options, and the inks to avoid are well-documented. Read more about what inks to avoid in your vintage pens.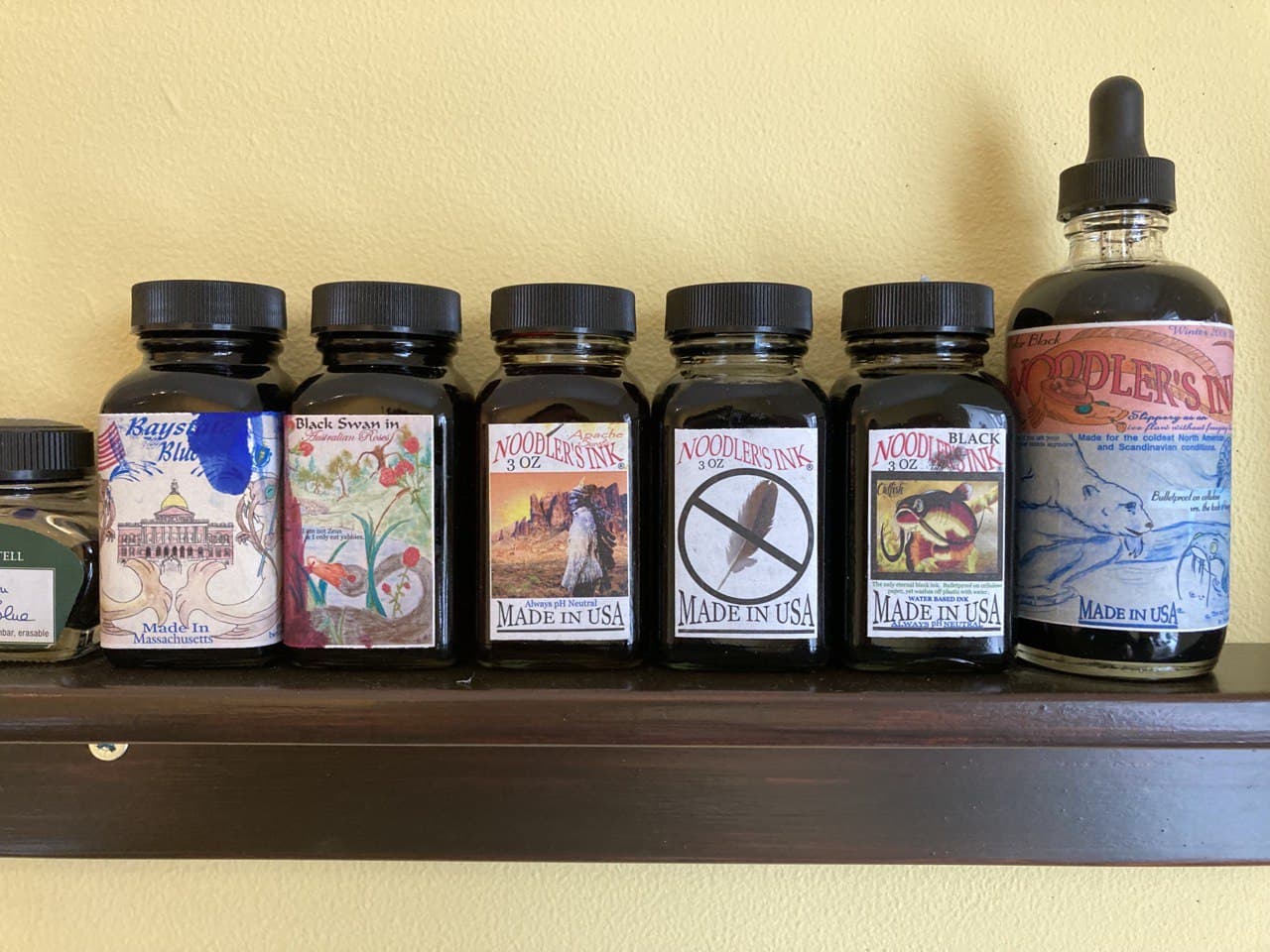 Is Noodler's ink safe for vintage pens?
Based on pH values alone, most Noodler's inks seem safe for use in vintage pens. Their inks can be heavily pigmented, which can lead to clogging. If your pen is hard to disassemble and clean, you might want to avoid these, or dilute the ink by adding water.
Are Diamine inks safe for vintage pens?
There are no reports of Diamine inks staining or clogging vintage fountain pens. Diamine inks are easy to clean out and generally not very heavily pigmented. While they do offer some acidic inks, they don't seem to cause problems in vintage pens, and most of their inks have low to medium acidity.
Factors that Determine Ink Safety
When we talk about fountain pen ink safety, we're actually talking about three different things. The most obvious is whether or not ink will damage your pen. But words have a denotation (what it technically means), and a connotation (what we actually mean), and the two generally don't align.
A safe ink is any ink that doesn't damage your pen through corrosion. Technically, that's all it is. However, we typically also refer to whether an ink will clog up our feed, or is hard to clean out, or stains the pen. In this article, I'll take all of those into account.
Then there are completely different subjects, like whether or not ink is toxic.
Will the ink corrode the pen body?
Is the ink easy to clean - ie. does it stain or clog the pen?
How often does the pen need cleaning - ie. does the ink dry out easily?
All of these issues are caused by four factors, which I'll go over below.
Ink acidity
Ink viscosity (thickness)
Amount of pigment
Type of pigment or dyes
Inks that are easy to clean out don't fall in the scope of this article. Generally, we call these non-clogging inks or well-behaved inks. I've written about them, and recommend checking those out if you want specific recommendations for inks that don't clog up your pen or inks that behave well in the pen and on the paper.
Ink acidity
The lower the pH value of ink, the more acidic it is. More acidic inks will corrode your pen more quickly, or so says Nathan Tardif of Noodler's ink. Other brands disagree: they produce very acidic inks that are anecdotally safe for piston fillers and other pen designs that are in contact with the ink. Although I'm no chemist, I tend to agree with Nathan Tardif on this point, since it seems the most logical.
Amount of pigment
Instead, old-school producers claim that heavily-pigmented inks are the culprit. True, thicker inks may clog up your feed. However, this is just inconvenient, and not permanently damaging to the pen. You could easily dilute the ink with some water if you are so inclined and solve this problem. As Tardif likes to point out: 'perhaps the ink manufacturers would prefer to sell bottled water instead of ink.'
Ink viscosity (thickness)
Similarly, thicker inks will also clog the pen more quickly, or could be more prone to drying out. This seems perfectly logical - however, there are two arguments against this point. Firstly, you can always dilute the ink. Secondly, high-maintenance ink isn't the same as damaging ink.
Also, acidic inks will evaporate more quickly than non-acidic inks, which suggests that more acidic inks are actually more prone to drying out. Perhaps that's why major producers dilute their inks to the point that it almost becomes bottled water.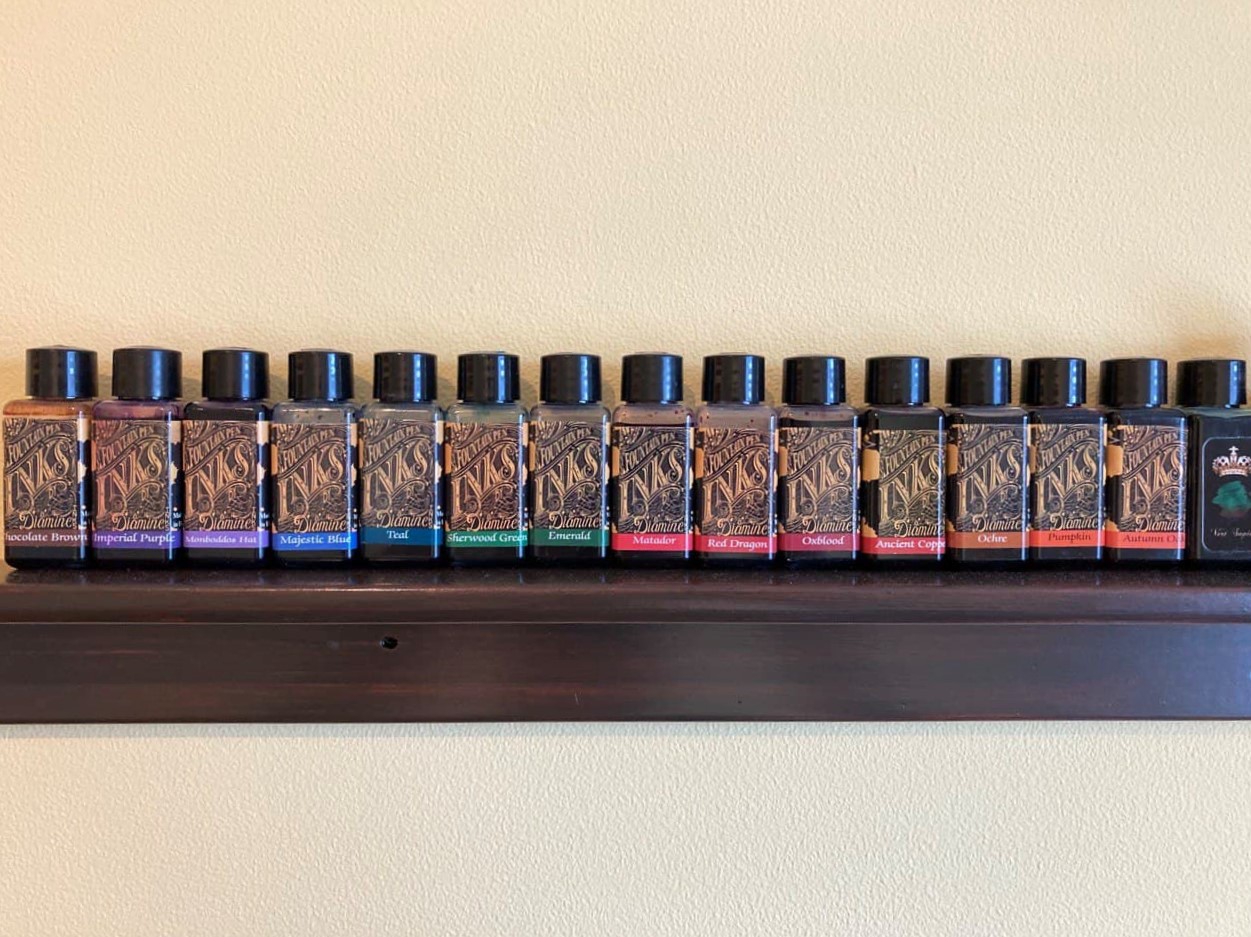 Identifying Safe Fountain Pen Inks
To wrap up this article, let's go over how to identify what inks are safe to use yourself. You might consider the following rules:
Safe fountain pen inks are:
pH neutral
thin, ie. low pigment
non-permanent
naturally dyed
blue
pH-neutral inks will corrode the pen substantially less than acidic ones. To find the pH values of inks, head over to my ink pH test.
Thinner inks will clog up the pen less easily and will dry out less quickly, therefore reducing how often the pen will need cleaning. You can identify the amount of pigment in an ink by putting some in a glass (about 1ml) and sloshing it around. Observe how quickly the ink draws down the walls of the glass. Also check how much residue remains when emptying the glass, which will indicate the amount of pigment in the ink. If you find an ink clogs your pen or doesn't flow, you can simply add some water. Tip: as with paint, always mix in a separate container instead of the actual bottle. If you get it wrong, you will only waste a small batch.
Non-permanent inks will generally be easier to clean out, although not always. Noodler's inks are typically permanent and I have no trouble cleaning them (except for the notorious Baystate Blue).
Blue inks use the lowest amount of pigment so will in general be safer to use. However, some classic blues are very acidic so it purely hints at low-maintenance. Except for Baystate Blue, that is.
Naturally-dyed inks should in theory be easier on your pens, and in my experience that is true. Herbin uses only natural dyes for their La Perle des Encres line.
Did you find the answer to your specific question?
👍

4
👎

2