15 Best Lubricated Fountain Pen Ink (Avoid These)
Lubricated fountain pen inks contain some lubrication to improve the ink flow and sometimes lubricate the piston mechanism of the pen. I find lubricated inks to write very pleasantly, and prefer them in my finer nibs, since they really reduce scratchiness, although it may also somewhat increase line width.
Here are my favorite lubricated inks, and some you might want to avoid.
The best lubricated fountain pen inks are Noodler's Polar and Eel inks, Lamy T53 Crystal inks, and most Diamine inks, but especially Majestic Blue. Noodler's Polar is the best permanent lubricated ink, while Lamy's Crystal inks are incredibly vibrant. Each provides a smooth and velvet-like writing experience, even in finer nibs.
Below I'll go over more inks in more detail, and we'll also discuss some inks that are particularly dry-feeling.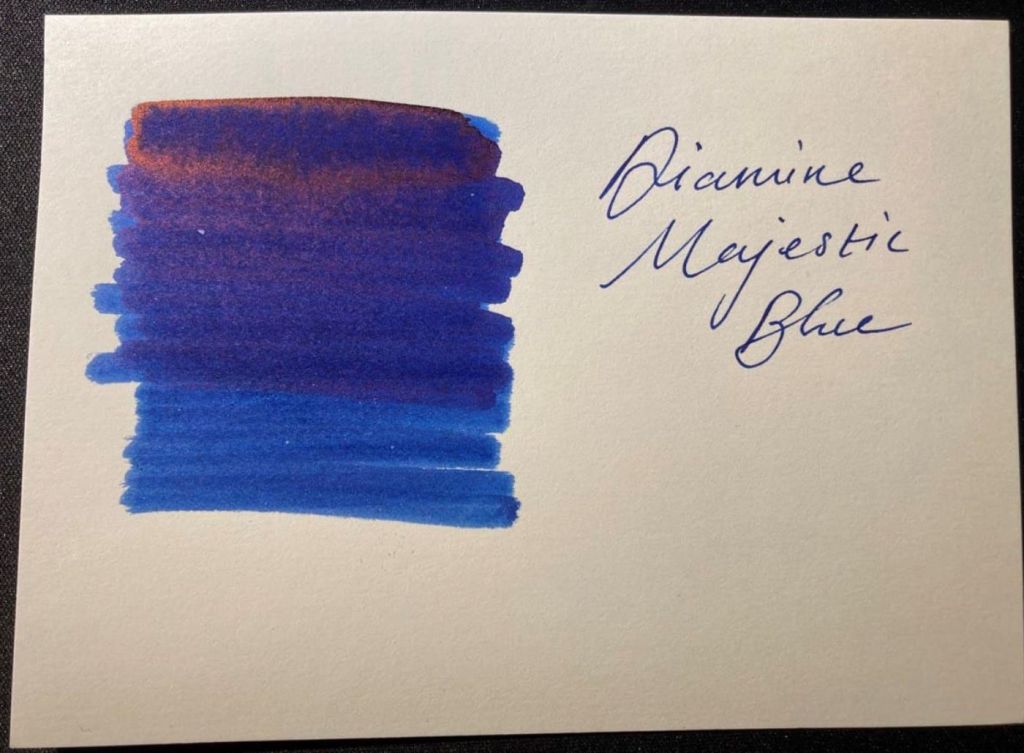 The Best Lubricated Fountain Pen Inks
Noodler's Polar Black
Noodler's Dark Matter
Noodler's Air-Corp Blue-Black
Herbin Perle Noire
Diamine Majestic Blue
Diamine Chocolate Brown
Diamine Blue Velvet
Pelikan Edelstein Tanzanite
Sailor Kiwa-Guro
Pilot Iroshizoku
Pilot Blue Black
Aurora Black
Lamy Crystal Rhodonite
Lamy Crystal Obsidian
There are three meanings to lubricated inks. Firstly, an ink can be lubricated to improve the writing experience. Secondly, a lubricant can have been added to an ink to lubricate piston mechanism parts, like Noodler's American Eel-series. Thirdly, some inks are called lubricated simply because they write so smoothly, even if they're not lubricated at all.
In this article, I'll try to mention which of these categories each of those inks fall under.
I do not own all of these inks, but many I do. I've based these recommendations on my own experience and many reports of fountain pen users online.
Noodler's Polar Black
I love this ink: it's incredibly saturated and flows really well. It's a true black with good properties, and it doesn't dry up on me in the pen, even after weeks of not using it.
Polar Black is explicitly lubricated, and it is water, freeze, UV, and fraud-resistant.
Get it here: Noodler's Polar Black on Amazon
Noodler's Dark Matter
Dark Matter is the favorite black ink of many; it's a very saturated black that is water resistant, but it is not entirely bulletproof like Polar Black.
Get it here: Noodler's Dark Matter on Amazon
Noodler's Air-Corp Blue-Black
Air-Corp Blue-Black is said to be velvety in flow and makes for a very smooth writing experience. It is partially bulletproof and water resistant, so it makes for a good daily ink.
Get it here: Noodler's Air-Corp Blue-Black on Amazon
Herbin Perle Noire
Herbin's Noire is deep and simultaneously rich in color. It is not super wet or flowy, so I don't think it's actually lubricated, but it is a thinner ink that will flow nicely with most nibs, even finer ones.
Get it here: Herbin Perle Noire on Amazon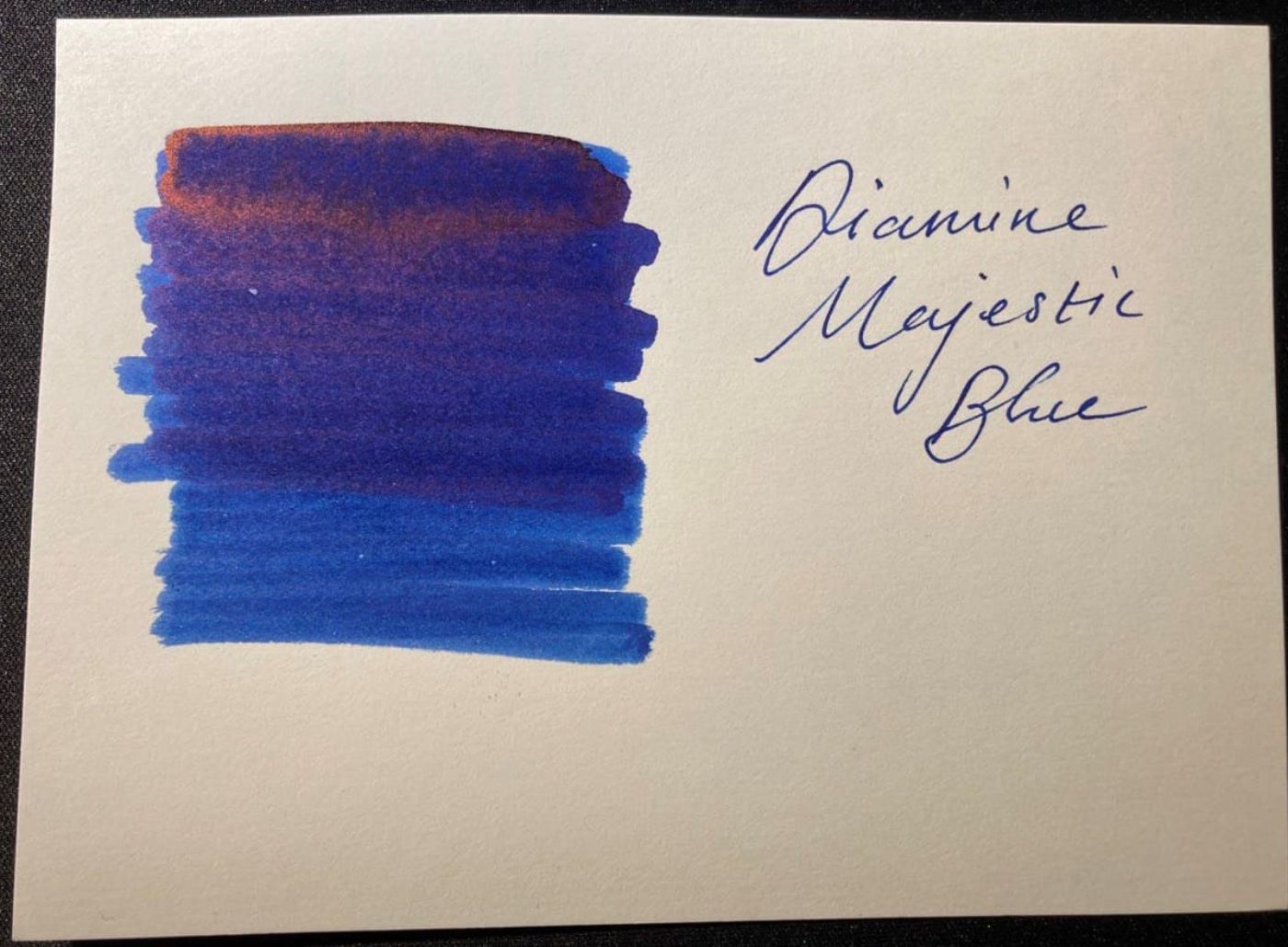 Diamine Majestic Blue
I have a love-hate relationship with this majestic blue ink (the name is spot on). It's the most beautifully-vibrant color I've seen, but it is also easy to smudge and not at all water resistant. It has purple and red undertones, and a stunning sheen. It's also very smooth and flows very nicely.
When in contact with water, it will nearly completely disappear! So it's not a great daily ink, although it provides an silky smooth writing experience, and I'm nearly certain that it has been lubricated quite royally - which explains why it is so reluctant to stay on a wet page.
Get it here: Diamine Majestic Blue on Amazon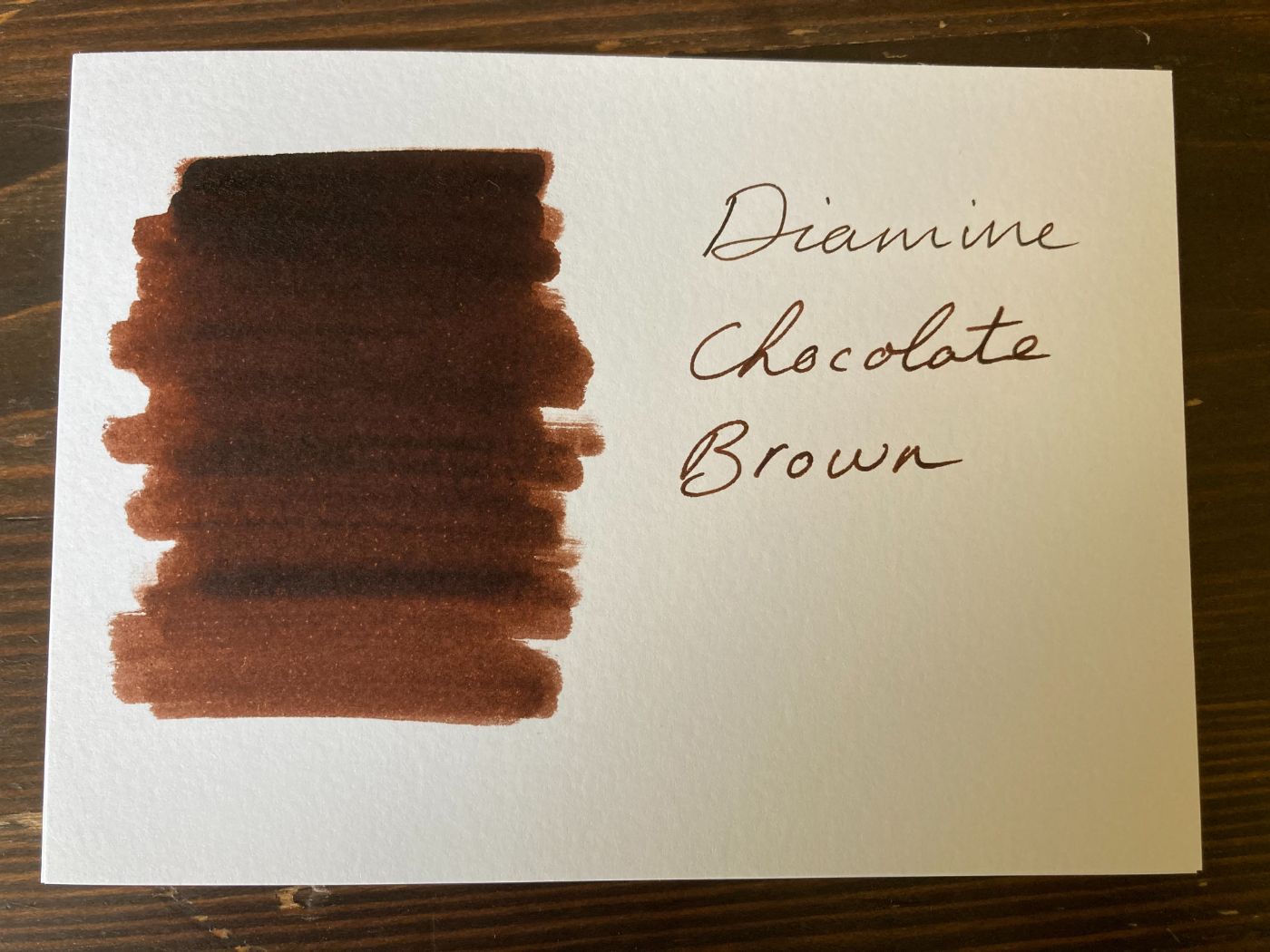 Diamine Chocolate Brown
Chocolate Brown is a beautifully shading ink, with yellow rich brown tones and warm yellows. It must have been lubricated, since it flows easily and rather wet with all my nibs.
It is an ink that writes pleasant and is easy to clean, but it isn't water resistant. Its' not as bad as Majestic Blue though.
Get it here: Diamine Chocolate Brown on Amazon
Diamine Blue Velvet
This ink is not super wet, but it does flow nicely, and it has a vibrant and deep blue color with the same sheen as Majestic Blue. It isn't water resistant, and the ink will run of the page almost completely when it gets wet.
Get it here: Diamine Blue Velvet on Amazon
Pelikan Edelstein Tanzanite
Tanzanite is exotically silky and I think it has been lubricated, but I'm unsure. Like all Edelstein inks, it is rather wet, but also manages to keep a vibrant and deep color. This ink behaves really well in finer nibs and many people are a fan. Dark blue with a purple undertone, it is a beautiful color.
Get it here: Pelikan Edelstein Tanzanite on Amazon
Sailor Kiwa-Guro
I haven't tried any Sailor inks myself, but many people have confirmed that this is one of the best lubricated inks out there. It's a very wet black. It's a pigmented ink, so it can be a bit harder to clean out at times.
It is also very water-resistant, thanks to the pigment, so it's a great and rather special-looking daily black ink, thanks to its incredible sheen.
Get it here: Sailor Kiwa-Guro on Amazon
Pilot Iroshizoku
Nearly all Iroshizoku inks are very well-behaved, as the inks are wet and fast drying at the same time. They come from Japan for a reason. Kon-Peki must be one of the all-time favorites, but one color I really enjoy is Fuyu-Gaki, which is incredibly vibrant.
Pilot Blue Black
This is a default ink for many, with great properties, but also easy to clean and maintain. Rather standard, but flows well.
Aurora Black
A standard, Aurora Black is a favorite among pen minimalist who just need a reliable and well-behaved black that stands up to normal use. It flows nicely and is rather black too.
Get it here: Aurora Black on Amazon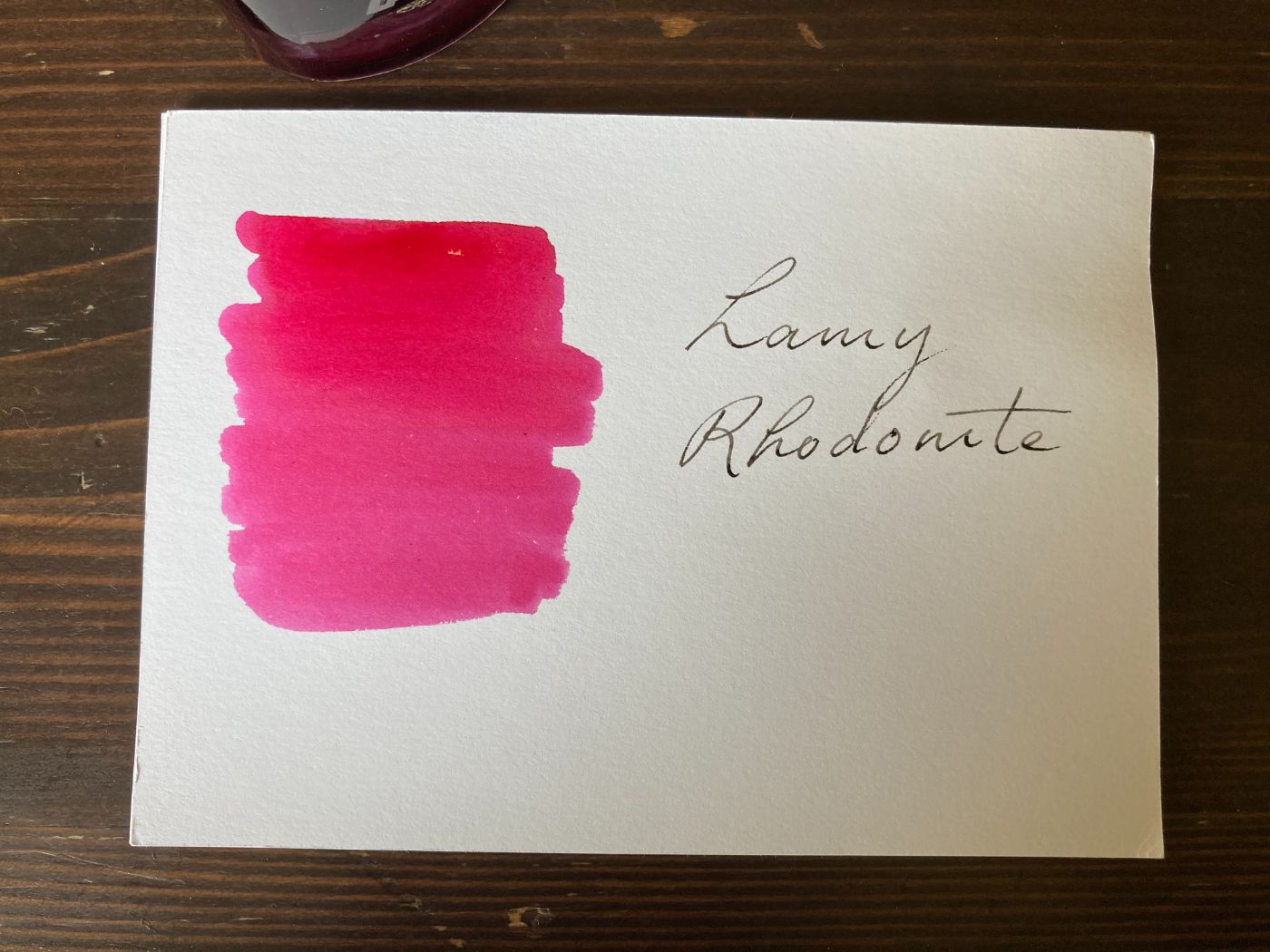 Lamy Crystal Rhodonite
Rhodonite is a beautiful pink-red, very warm, with shimmer and lots of shading. It's nice and wet, and flows nicely, and its dry times are acceptable as well.
Lamy's Crystal inks (T53 line) are incredibly flowy, and I suspect they have been lubricated to the limit. These inks are sometimes a bit too much in wetter nibs, but I find that my fine nibs, like my Moonman C1 - which is a great pen with a number 6 nib but that is a bit too dry in my opinion - they really know how to handle Lamy's Crystal inks.
Get it here: Lamy Crystal Rhodonite on Amazon
Lamy Crystal Obsidian
Obsidian is a really deep black that's very oily, if you know what I mean. It is very free-flowing and saturated, and I really enjoy this as a daily black ink. It has teal undertones, making it a cooler color. It doesn't hold up too well to water, I suspect due to the lubrication.
Get it here: Lamy Crystal Obsidian on Amazon
Pros and Cons of Lubricated Ink
Advantages of lubrication
reduce feedback of pen (could be a con for some)
better ink flow = more ink
Disadvantages of lubrication
longer dry time
more prone to smudging
possibly less permanence - in case of glycerin
more prone to leaking - in case of surfactants
How to Lubricate Inks Yourself
If you like a particular ink but it is too dry for your taste, you can lubricate inks yourself easily.
The most common lubricant in ink is pure glycerin. Add 3 drops of glycerin to 1 ounce of ink. Use food-grade glycerin from the pharmacy to avoid contamination. Some people also use dishwashing detergent, which works as well.
If you're interested in lubricating inks yourself, I've written an article on how to do it safely using different recipes. Learn how to lubricate any fountain pen ink yourself without ruining it here.
Diluting inks vs. lubricating them
Contrary to what many people think, diluting inks with water won't lubricate them: it will make them drier. There are however good reasons for diluting fountain pen ink. For example, it will increase shading. To learn the other two advantages diluting fountain pen ink, read my article here.
Avoid These Notoriously Dry Inks
You might want to avoid the following inks, since they're unlubricated, and frankly, a bit dry. Or you could lubricate them yourself, of course.
Pelikan 4001
Parker Quink
Diamine Pumpkin
Noodler's X-Feather
Diamine Ancient Copper - tends to dry out in some pens (in my Noodler's Charlie pen ie.)
FAQ
Is Montblanc ink lubricated?
Most Montblanc inks aren't lubricated and are rather dry to complement their fountain pen nibs, which write on the wet side.
What is lubricated fountain pen ink?
With lubricated fountain pen ink, a surfactant or lubricant has been added to improve the ink flow, either by reducing surface tension (surfactant) or increasing lubrication (lubricant).
Did you find the answer to your specific question?
👍

28
👎

2